Disclosure: This post may contain affiliate links. I earn from any qualifying purchases, at no additional cost to you.
This is the only guide to the offbeat places in Goa that you'll ever need to explore another side of Goa. This offbeat Goa guide lists all the top 11 offbeat things to do in Goa that's not the beaches. Whether it means finding the offbeat places in Panjim, exploring waterfalls hidden in the urban jungles, lakes with a view to die for, or riverside chapels, you'll find it in this blog post.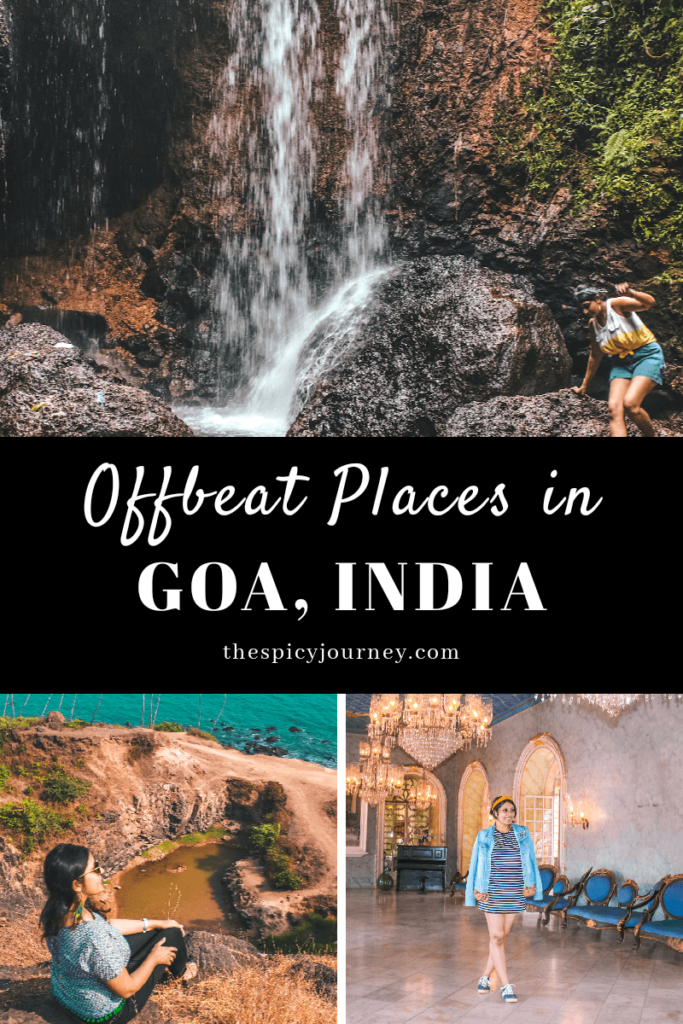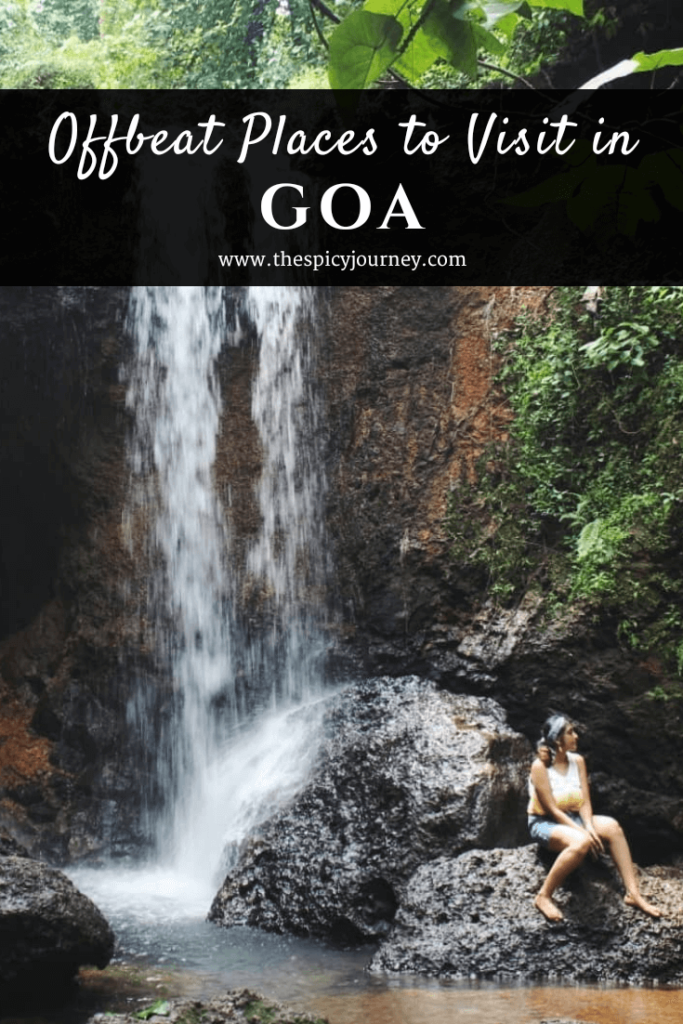 Time and again I keep stressing on the fact that Goa is not just about the beaches, cheap booze and parties. There's more to Goa than the typical overcrowded touristy things. Not only does Goa have a rich culture and heritage, but also immense natural beauty. In fact, there's no shortage of offbeat places in Goa. From islands to churches, temples, lakes and off-route scenic drives, there's so much you can do other than just visiting the beaches. However, I'm not suggesting that you skip the beach. All I'm suggest is that you can make your Goa trip much more fulfilling my taking the offbeat road from time-to-time. With this in mind, I have compiled a list of my favourite offbeat things to do in Goa. If you're looking to visit Goa for the weekend, take a look at this 2-day guide to visit Goa.
Offbeat Goa: Map of all Places
Offbeat Places in Goa:
Nowadays, people visiting Goa are looking at doing something other than visiting the mainstream places in Goa. People are drawn more towards the offbeat places in Goa. So take a look at some of the finest offbeat places in Goa:
1. Divar Island
Take a ferry from Old Goa or from Ribandar to reach the charming little Divar island. The island is located approximately 10 km upriver from Panaji. While there isn't much to see at the inland except for a few churches, there's a tranquillity in the air that you experience while driving across the empty roads surrounded by marshy open fields. As you arrive at the little villages surrounded by forested hills, step out of your car or bike and lake a leisurely walk along the single-lane roads and soak in the serenity of rural offbeat Goa. P.S. Follow my on Instagram (@thespicyjourney) to get instant updates on offbeat places in Goa and beyond.
2. Salaulim Dam
Located in the Sanguem Taluka of South Goa, about 26 km from Margao, the Salaulim Dam is Goa's largest man-made water storage reservoir. Coupled with lush greenery and a large, picturesque garden, the dam makes for an ideal day-trip during and soon after the monsoon season in Goa. A sprawling lawn, canopy of trees, manicured hedges and ample open space make the botanical garden a favorite picnic spot among locals. Moreover, the garden was built to resemble the iconic Mysore's Brindavan gardens. From the top of the dam, you can see the pellucid waters reflecting the forest on one side and the garden on the other side. The duckbill spillway of the dam falls with such force that it causes some of the water to rise up and create a misty appearance. If you can't get yourself to leave this place, there is a guesthouse located close-by where you can book your stay.
3. Chandor
When it comes to offbeat Goa, Chandor is as offbeat as it gets. One of the unexplored places in South Goa, Chandor used to be a magnificent city between the 6th and 11th century. What's more, there are 2 elaborate mansions located in this village which is 15 km south east of Margao city. Braganza house dates back to the 16th century. The owners give the visitor a tour of the house, showing all the relics and where they came from. Most of the items in the house were imported from Europe. The highlight of the house is the grand ballroom, shown in the picture above. Expect to pay around Rs 300 per person, which goes into the maintenance of the house. While you're in Chandor, you can also visit the Fernandes house. This house is less extravagant but it has a secret passage build with gunshot holes. Besides, the man running the houses is the sweetest person. He's was kind enough to open his house for me and his friend in the middle of his lunchtime and gave us a full tour. A visit to Fernandes house will cost Rs 100 per person.
4. Siolim Riverside Chapel
The Siolim chapel is located in Siolim which is roughly a half hour drive away from Vagator. This chapel is set alongside the chapora river, near the Siolim bridge. While the chapel is located in the busy North Goa, it's one of the most offbeat places in North Goa that resides in a tiny riverside village. If you're staying in Vagator or Anjuna, drive through the tiny villages along the river and reach this chapel just a little before sunset to enjoy the peace and calm it offers. Read about some of the other places to visit in North Goa.
5. Three Kings Church
Three Kings Church or Our Lady of Remedios Chapel, is situated on a hillock 12 km from Dabolim Airport, on the way to Margao. A tiny Chapel atop a hill, it is a favorite hang out place among the locals. Since the Chapel is at a height, you get to see spectacular views of the surrounding landscape, open fields, lanes covered by coconut trees and the sea at a distance. In addition to the views, there is a gentle breeze in the evening and a small road where you can take a leisurely stroll or sit on a grassy patch and take in the views. You can visit this Chapel while going from the Dabolim airport towards Margao or vice-versa.
6. Unexplored Places in South Goa
Did you really think I would leave out beaches from this list? In contrast to the beaches of North Goa which are generally overcrowded, South Goa beaches are usually desolate and have more room to walk around and enjoy the empty beach. Not only are there vacant beaches, but also some full-fledged tourist beaches with beach shacks and a vibrant atmosphere. My favourite tranquil beach in South Goa which is also a great offbeat place in Goa is Cabo de Rama beach. You can also read about a relatively undiscovered by the Indian crowd, Patnem beach. On your next Goa vacation, give the unexplored South Goa beaches a try. They will not let you down.
7. Kesarval Waterfall
While there are many waterfalls in Goa, most of them are located at far off distances and require a small trek to reach them. However, Kesarval waterfall is located in Verna, a bustling place which lies between Margao, Panaji and Vasco. This waterfall has a lot of water during and just after the rainy season and starts drying up by the time summer approaches. Nonetheless, if one of the best offbeat places in Goa that I can recommend due to it's close proximity to all major cities in Goa.
8. Heart Shaped Lake
Of all the offbeat places in Goa, this one tops my list. Whether you're going to the Goa airport or to Kesarval waterfall, you can see the the heart shaped lake which is located in Bogmalo. This offbeat place in Goa can be reached via a non-existent dirt road near the Bogmalo beach. just 5 km from the Goa airport. This place is a popular hangout spot among college student due to its offbeat location and the gorgeous sea views.
9. Siridao Chapel
There are a few offbeat things to do in Panjim, the capital city of Goa as well. The chapel is located in Siridao, 10 km from the heart of Panjim city. The chapel is not the only offbeat place in this area. In fact, Siridao even has a beach which has been gaining rising popularity among those those want to stay close to the capital city of Goa but want to experience an offbeat beach. There's another beach in the vicinity called Bambolim beach, which is also another offbeat place to visit in Goa. Take a look at this guide to Panjim city to read about places to visit, events, hotels and more.
10. Fontainhas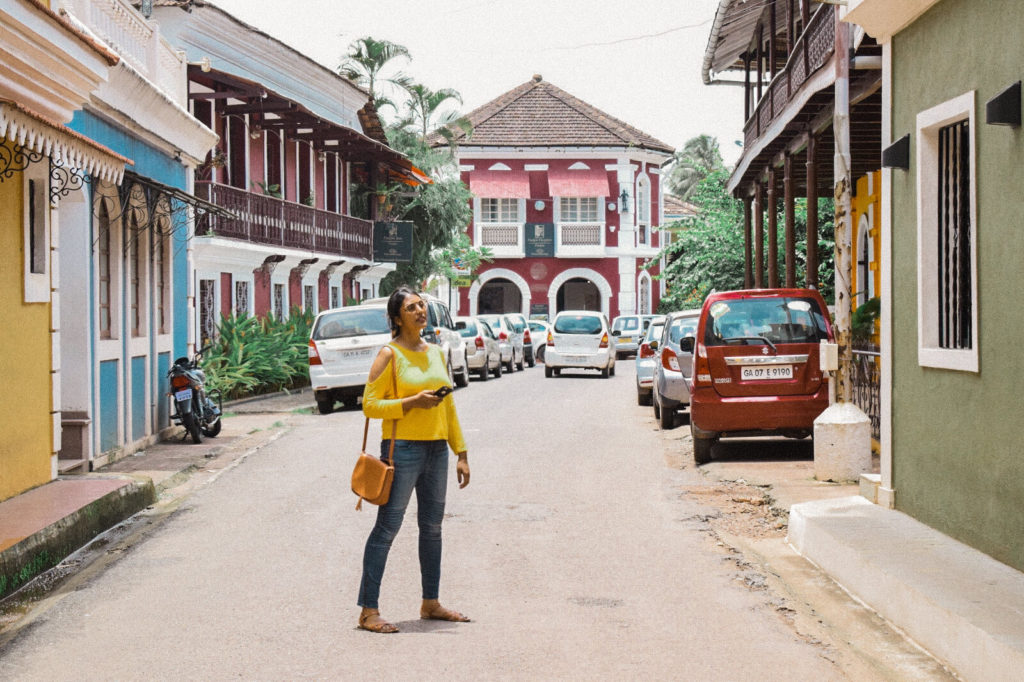 When it comes to one of the best offbeat places in Goa, this one tops the list. The old Latin Quarters of Panaji, Fontainhas is an area bursting with colourful houses in bright maroon, green, blue and yellow. The restaurants around here are equally lively. Fontainhas is a region with a rich cultural history. Thus, I have written about Fontainhas in-depth in my post, a day in Fontainhas. Read this article to find out the hidden secrets, the best eats and the right spots to take Instagram-worthy pictures. Spending a day here is undoubtedly, one of the best offbeat things to do in Goa.
11. Reis Magos Fort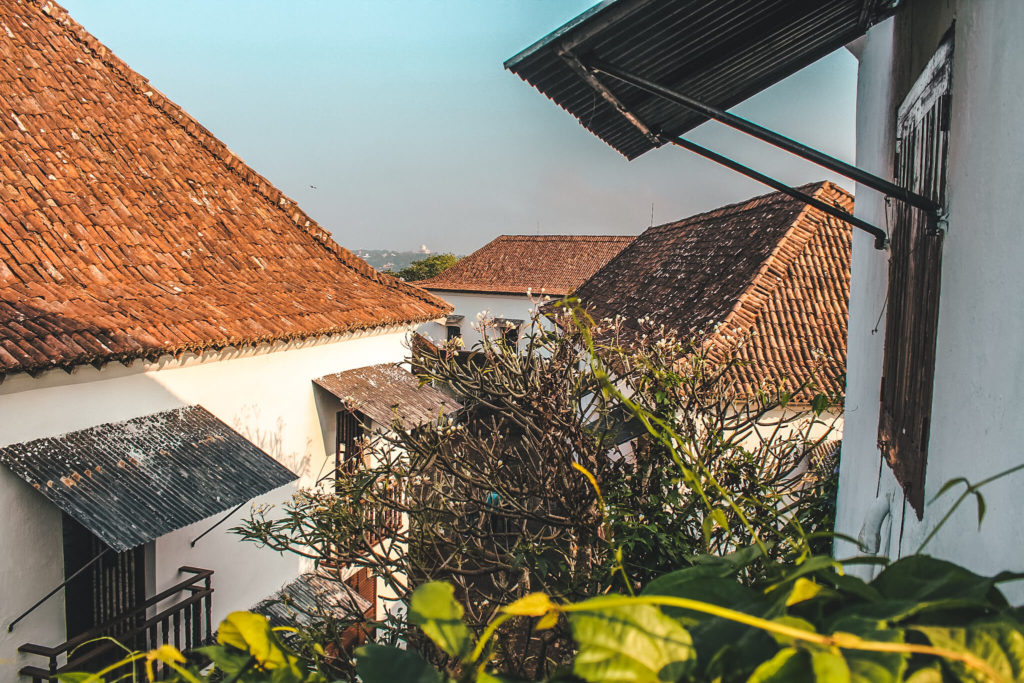 Goa has quite a few forts. While the popular forts in Goa are Aguada fort and Chapora fort, the Reis Magos fort is a lesser known but the most beautiful of them all. Located just 5 km from Panaji and 5 km from Candolim, you can visit the fort from either place. The fort is set along the Mandovi river and was built in the 16th century. It remains open from 9.30 am to 5 pm for visitors. This fort has even made an appearance in my post on the most instagrammable places in Goa.
12. Sao Jacinto Island
Jacinto island is just one of those places where there's nothing much to do. Instead, it's the kind of place where you can spend endless time with your company. Located near Vasco city and accessed by a small bridge, this place is perfect for spending the evening, enjoying the light breeze and hanging out with friends. The location and the aura of this place certainly puts it on top of the list of offbeat places to visit in Goa. Not just that, it's even one of the finest places to chill in Goa. There are 2 restaurants located at the start of the bridge and another one on the island, offering sweeping views of the river as well as good seafood, in case you decide to stay here for dinner.
11. Chapel of Our Lady of the Mount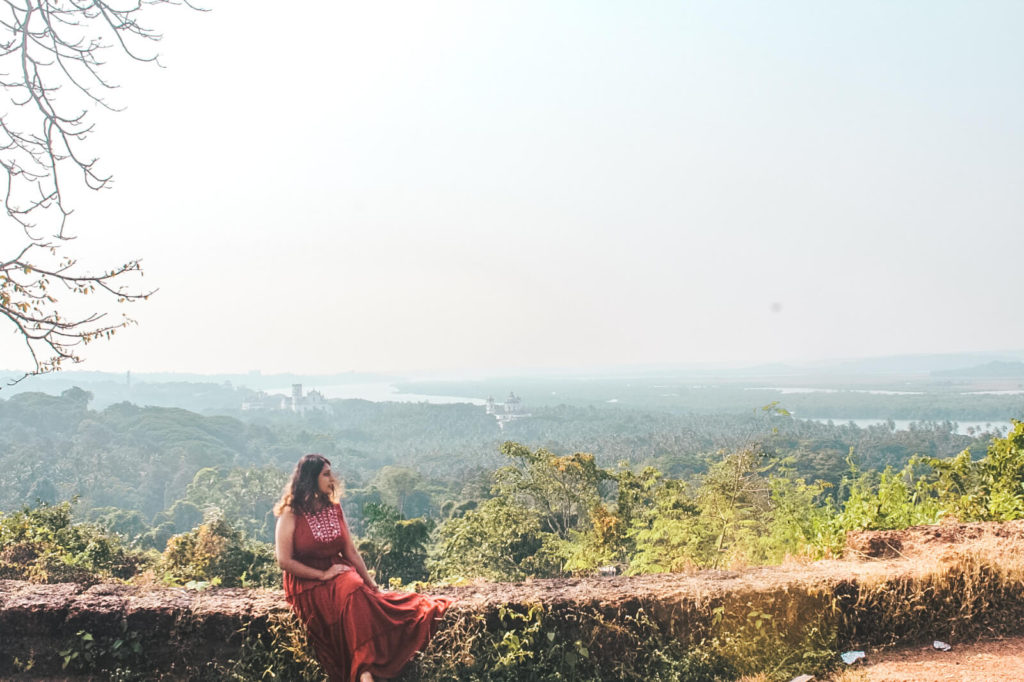 While Old Goa may be famous because of the Old Goa church, there are certainly a lot more places to visit in Old Goa. Our Lady of the Mount Chapel is one of those places. Located on a small hillock just 2 km from the Old Goa church, this chapel overlooks the Old Goa attractions as well as the Mandovi river. It's just another one of those places which is great for watching the sunset. I cant help it - I'm a sucker for sunsets and if you are too, definitely pay a visit to this chapel while you're in Old Goa.