Disclosure: This post may contain affiliate links. I earn from any qualifying purchases, at no additional cost to you.
Everyone loves Goa. No seriously, I haven't met a single person to date who visited Goa and didn't fall in love with the place. It's a fun place with lots to do, a strong tourism industry, great beaches, hippie vibes, cool restaurants and something for everyone. Panjim or Panaji is the capital city of Goa. Set along a boulevard, the city is rich in history and culture. Moreover, it's home to dozens of fantastic restaurants. This post is a detailed guide to Panjimc city - including things to do in Panjim, various events held here, the best restaurants in the city. where to stay in Panjim and more.
Things to do in Panjim City, Goa:
Panjim city's history reflects in the architecture and the food. In fact, there is an entire neighbourhood of houses in the Portuguese style of architecture. No doubt, there's tons of places to visit in Panjim. Here's a list of the top 10 things to see in Panjim:
1. Panjim Church
The Immaculate Conception Church is Panjim Church is one of the most iconic landmarks of the city. It was built in 1541. Originally, the bells of the church belonged to the Augustine tower in Old Goa. Once the Augustinian monastery was damaged, the bell was brought to Panjim and installed on this church. It's the second largest bell in Goa, only smaller than the one on Se Cathedral in Old Goa. The Panjim Church is located near the municipal garden. It's an easy 10 minute walk from the 'High Court' bus stop in Panjim.
2. Fontainhas
Fontainhas is my personal favourite among all the places to visit in Panaji. Because of the fact that it was a former Portuguese settlement, the remnants of the architecture remain intact in this neighbourhood. What is more, this area is identified by brightly coloured petite houses and bougainvillea laden streets. Due to this, Fontainhas is a photographer's delight. Nonetheless there is a lot more to Fontainhas than just the pretty streets. To discover what more this place has to offer, you can all about things to do in Fontainhas Goa. 
3. Altinho Hill
Altinho (translated to "high" in Portuguese) is a hill in Panjim. It's an upscale neighbourhood, housing the Goa Chief Minister's residence, among other government buildings. Not only this, the Archbishop's Palace is located on the Altinho hill as well. The Archbishop is a clergy member who is a higher figure over multiple Bishops. He is the head of the Roman Catholic Metropolitan Archdiocese of Goa and Daman. While there's no shortage of great restaurants and cafes in Panjim, Altinho houses one of Goa's best cafes, Cafe Bodega. Located in a Portuguese house, it's an art gallery combined with a charming cafe.
4. Maruti Temple
Nestled between Altinho and Fontainas, Maruti temple is located in the neighbourhood of Mala in Panjim. There's lots to love about this temple. Not only is it the most majestic temple in Panjim, it's located in one of the more scenic and quieter areas of Panjim city.  What's more, you'll get to see a panoramic view of Fontainhas, Patto as well as the new Atal "Setu" bridge. A winding road down from the temple leads to Fontainhas whereas the road uphill goes to Altinho. The Maruti Temple Panjim is the best things to see in Panjim city and enjoy a little bit of peace within the city.
5. Mangrove Boardwalk
The relatively-newly created Mangrove boardwalk has remained hidden from the tourist radar. Actually, it's quite popular among the locals. The boardwalk is located between Patto and Mala. The entrance can be found behind the state library in Patto. This boardwalk is a beautifully constructed out of wood between the mangroves on the Ourém creek. Sitting on the wooden benches along the boardwalk and listening to the birds is a great way to spend an afternoon in the city. The mangrove boardwalk Panjim is open throughout the day during all seasons and it's free for all.
6. Dona Paula
Located at a short distance from Panjim, Dona Paula is a popular spot among tourists. It's famous for it's ocean facing hill top, and the Dona Paula jetty. Since it's a well-known spot, there are lots of stalls selling refreshing drinks and snacks as well as tiny restaurants all around. While I wouldn't place it too high among places to visit in Panjim, it's one of those things to check off your list. Lots of Bollywood movie scenes and songs are shot in Dona Paula, one of them being the famous movie Singham. Who knows, you might get to watch a movie shoot in Dona Paula.
7. Miramar
Miramar beach is the most popular among all the Panjim attractions. While the beach itself doesn't have much to offer, it's only one of the two beaches in Panjim. In the evenings, there's a long line of stalls selling various street food items right near the beach. Walking along the beach and enjoying some street food is a nice way of spending the evening in the city. There are various events that are held in the area from time to time, which are worth checking out.
8. Sunset from Kala Academy
There's no doubt that you get to experience stunning sunsets in Goa. One of the best sunsets I've seen was from Kala Academy Panjim. Kala Academy is a centre that has indoor and outdoor theatres, art galleries and a large lawn for conducting events. Every month, there's something or the other going on here. Behind the lawn is a narrow causeway of sorts, facing the river, overlooking Reis Magos on the other side of the river. Moreover, there's even a lighthouse on the far left. This spot, right behind the Kala Academy, is just about perfect to catch the sunset.
9. Panjim River Cruise
If you've covered most sights in the city and are wondering what to do in Panjim next, a river cruise is the answer. While I don't recommend the highly commercialised Panjim river cruise that most tourists go for, I suggest taking a more immersive ferry ride in the rivers. One of the best ferry rides is the one from Old Goa to Divar island. In all honesty, I encourage people to go for more offbeat places in Goa rather than touristy ones.
10. Indulge in Authentic Goan Food
One of the best and most interesting things to do in any place is to enjoy the local food. Goa is famous for dishes such as chicken cafreal, chicken vindaloo and fish curry with rice. Sample these dishes and enjoy a taste of the famed Goan cuisine in one of the many restaurants in Panjim. Some popular restaurants serving Goan cuisine in Panjim are Ritz Classic, Kokni Kanteen, The Fisherman's Wharf and Peep Kitchen.
Events in Panjim City
There are a plethora of events held in Panjim, throughout the year. From massive events attracting international audiences to small local events such as food and music festivals for the locals, there's quite a bit happening in Panjim. Check out some of the big events in Panjim city, listed below.
1. Serendipity Arts Festival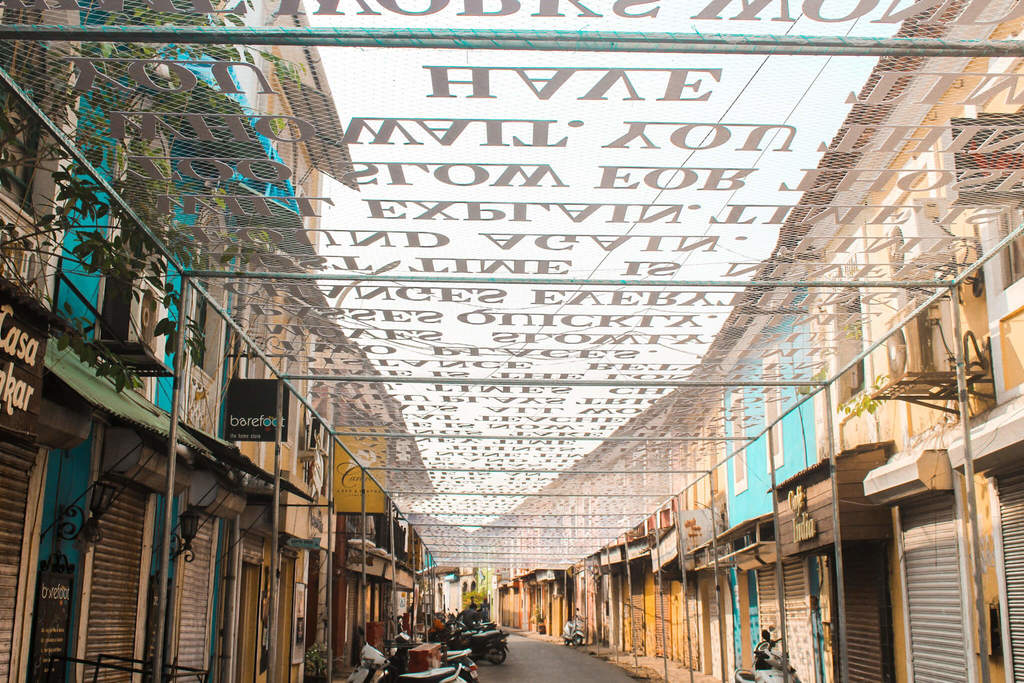 A personal favourite of mine, the Serendipity Arts Festival is held in the month of November-December in Goa. There are various exhibitions, events and workshops held at various locations across Panjim city. There's a wide range of themes from photography, dance, theatre, culinary, fine arts and more to indulge in. Some of the most popular workshops that have been held during the Serendipity Arts Festival is the chocolate tasting and the beer tasting workshops. These events tend to fill out quickly so make sure you register for them and reach the venue ahead of time!
2. International Film Festival of Goa (IFFI)
IFFI is an annual festival that attracts both national as well as international tourists as well as lots of celebrities. IFFI Goa screens a wide range of movies. Furthermore there are talks held which are hosted by celebrity actors, directors and various artists. It gives an opportunity to snag a glimpse at your celebrity crush and discover new movies along the way.
3. Goa Carnival
The Carnival in Goa is a lively and entertaining event. Carnival parades are held in multiple cities on different dates in the month of February. Some of these cities are Panjim, Margao, Vasco and Ponda. However, the most frolicking parade is the one held in Panjim, along the river on the main Dayanand Bandodkar road. Floats depicting all manner of things pass by, there's jolly music playing and girls and boys dressed in fun colourful clothes dancing in sync walking along the floats. The carnival is basically a big celebration out on the streets. This is not one to be missed!
Places to Eat in Panjim - Restaurants and Cafes
There's no shortage of great restaurants in Panjim city. The city offers a selection of restaurants and cafes, serving a wide range of cuisines from Goan to North Indian, Continental and Oriental dishes. I've summed up a collection of the most popular restaurants in Panjim city. Check it out to get a detailed break down of places to eat in Panjim which includes the best restaurants in Panjim. If you're looking for restaurants beyond Panjim city, then take a look at this guide on the best restaurants in North Goa.
Day Trips from Panjim - Nearby Attractions
1. Old Goa
No trip to Goa is complete without visiting the Old Goa Church. The iconic landmark of Goa, the Old Goa Church houses the remains of St. Francis Xavier,  a missionary who came to Goa in the 16th century. He's kept in an ornate silver casket which is placed on a high platform for visitors to see from afar. Read more about things to do in Old Goa and an offbeat guide to Old Goa.
2. South Goa beaches
The beaches of South Goa are a pleasurable alternative to the crowded and highly commercialised North Goa beaches. If you're looking for peace, quiet and a relief from the hordes of tourists, head over to the South. Read this article for a comprehensive guide to the South Goa beaches.
Hotels in Panjim Goa
You must stay in Panjim city if you want to cover all the sightseeing places and the things to do in Panjim city. There are ample hotels in Panjim - ranging from resorts, boutique stays to backpacker hostels. Take a look at some of the hotels in Panjim Goa:
Luxury Hotels in Panjim Goa
When it comes to indulging yourself while you're in vacation in Panjim, Goa, nothing says luxury like Doubletree by Hilton, Panaji. This large and comfortable hotel offers a fabulous restaurant Comida which serves different cuisines along with an infinity pool overlooking the Goan landscape. In addition to that, you'll find lots of activities and cozy corners to spend your time rejuvenating here. Another big plus of the hotel is its location. While it's close enough to the city so that you can cover all the things to do in Panjim and the sightseeing places. it's far enough from the chaos of the city. Moreover, the fabulous views of the river and islands off Panjim city are well-worth the splurge.