Disclosure: This post may contain affiliate links. I earn from any qualifying purchases, at no additional cost to you.
Kuala Lumpur is a vibrant yet modern city that's often a pit stop for Indians travelling to Bali. If you ever find yourself in this city and are wondering what to do in Kuala Lumpur in 3 days, this is the guide for you. In here, you'll find all the important information about travelling to Kuala Lumpur on a budget. That includes how to go from KL airport to the city, where to stay, finding the right food and places to visit in Kuala Lumpur in 3 days.
Best Time to Visit Kuala Lumpur
Winter (December - March)
The winter months in Kuala Lumpur bring a cool and pleasant climate. The days are enjoyable whereas in the night it can get a little chilly. Pack a light jacket or shrug if you're going to be exploring the city at night. It's definitely the best time of the year to visit Kuala Lumpur.
Summer (March - September)
Kuala Lumpur has a tropical climate which means its hot and humid throughout the year. However, the summer months can get especially hotter. March and April are the hottest months of the year which means they are best avoided. The climate from May to September is one of the best times to visit Kuala Lumpur.
Monsoon (October - November)
The monsoon months in Kuala Lumpur are extremely humid. While it only rains for a little while and stops, the humidity can get overbearing. It's best to avoid visiting Kuala Lumpur during the rainy season.
How to go from Kuala Lumpur Airport to the City
Getting from the Kuala Lumpur airport to the city is pretty easy actually. As a matter of fact, there are many facilities are at airport to help passengers to reach the city.
1. Airport Taxi
There are counters at the airport itself from where you can book a taxi ride to the city. The typical cost of the taxis range from RM 70 to RM 150. This is definitely the most convenient but expensive way to go from the Kuala Lumpur airport to city.
2. KLIA Express Train
Once you exit customs, look out for signs directing you towards the KLIA express train. This is the fastest way to reach the city from the KL airport, taking only 28 minutes and costing RM 55. The train begins at the KLIA2 terminal, stops are the KLIA1 terminal and then heads straight to KL Sentral. From KL Sentral you can take one of the many train lines, taxis or buses to go to your hotel or hostel.
3. Bus
Once you exit from the airport take the escalator to go down to the ground level of the main terminal where you'll find a transportation hub. Here you'll find lots of buses heading towards the city. Buy your ticket at counter number 3 and enjoy a comfortable ride which will take around 45 minutes to 90 minutes depending on the traffic. A typical cost of the bus ride ranges from RM 10-15 which is certainly the cheapest way to reach the city.
How to Get Around Kuala Lumpur
Kuala Lumpur has a highly efficient public transportation system. You'll easily find lots of trains running at regular intervals within the city. Apart from that there are various bus services including RapidKL, GoKL and the hop-on-hop-off buses for tourists. Besides, if you're looking for a more personal way to move around the city, using Grab taxis is the best option.
GoKL Buses
One of the most impressive things in the city, the GoKL buses are a free service provided. There are 4 routes, each marked with  colour going to different parts of the city. Thus you'll find the Green line, Red line, Blue line and Purple line GoKL buses. Each bus is air conditioned and comes with free WiFi plus the rides are completely free of cost. These buses go on popular routes and cover most tourist attractions. Read about the various GoKL bus routes.
Grab Malaysia
The Grab taxi app is Malaysia's alternative to Uber. This app is super easy and convenient to use. Using the Grab app, you can book a metered or a non-metered personal taxi or a ride-sharing taxi. The rates are nominal and it's a convenient way to get around the city.
Where to Stay in Kuala Lumpur
There's no shortage of hotels in Kuala Lumpur. You'll easily find a range of accommodation from high end luxury hotels, mid range hotels and backpacker hostels. I stayed at a hostel located close to the Merdeka Square called BackHome Hostel. It seemed to be a popular choice as there was constantly a buzz of people. The hostel was modern with many amenities including a free breakfast in the morning as well as a cafe next door.
Where to Eat in Kuala Lumpur
Kuala Lumpur has a wide variety of restaurants, cafes and street food markets selling a range of cuisines. While the Malaysian cuisine is heavily beef, fish and chicken based, there are options of vegetarians like me as well. Since Kuala Lumpur has a 10% ethnic Indian population, there are scores of Indian restaurants to be found. My favourite was Betel Leaf, which was just a 2 minute walk from the BackHome hostel where I stayed.
Safety in Kuala Lumpur
Before taking a trip to Kuala Lumpur, I was quite worried about the safety aspect. While I did have some concerns, Kuala Lumpur turned out to be a safe city by my standards. Being from India, the kind of catcalling, staring and blatant sexual harassment I have faced, Kuala Lumpur was absolutely nothing. Except for one catcalling incident, I found it to be a safe city.
What to do in Kuala Lumpur
If you're wondering about what to do in Kuala Lumpur, worry not because you have plenty of options. From mosques to temples, to shopping squares and parks, Kuala Lumpur has plenty of sightseeing places. This itinerary lists down all the top things to do in Kuala Lumpur city.
KL Tower
Start your day with a visit to the Menara KL Tower. This is a 420m tall building from where you get to see epic views of the Kuala Lumpur city and an even better view of the Petronas twin towers. There are two floors up-to which you can go - the observation deck and the sky deck. Tickets to the observation deck cost RM 55. From here, you get a 360 degree view of KL. There are binoculars, souvenir shops and vending machines at this deck. On the other hand, a visit to the sky deck will take you back RM 99. But you will get a much better view from the Sky deck, including a glass box from where you will get to see the city and the twin towers. It's definitely a sight to see!
Petronas Twin Towers
The petronas twin towers are an iconic landmark of Kuala Lumpur city and one of the best places to visit in Kuala Lumpur..Standing tall at 375 meters, these towers can be seen from many viewpoints across the city. Finding the best angles of the twin towers is one of the best things to do in Kuala Lumpur. Unless you have a wide angle lens, it's not an easy task to photograph the petronas twin towers. Make it a point to roam around the city and find the best angles to capture the towers!
KLCC Park
Speaking of places to find the best angles of the petronas twin towers, KLCC park is the place to go to photograph this landmark. Come here during sunset to both view the towers in daylight and at nightfall when it lights up. Besides, there's a water fountain light show every evening at KLCC park which is a must-see sight in Kuala Lumpur.
Shopping at Bukit Bintang
When it comes to shopping in Kuala Lumpur, no place can satisfy the shopaholic in you like Buki Bintang does! With high-end luxury stores as well as the standard famous retail stores, it's the place to go when you want t do shopping in Kuala Lumpur! What else, the entire area even has some very popular and happening restaurants.
Batu Caves
If there's a compulsory sight when it comes to what to do in Kuala Lumpur in 3 days, Batu Caves is it. Contrary to the popular image of one staircase leading upto a cave, in fact Batu caves comprises of 5 caves. The most famous one, shown in the picture above, is the Temple cave. Keep in mind that anyone visiting the caves is required to dress modestly. Women especially are required to cover their legs and shoulders. There's no entry fee to enter the Batu caves. The best way to reach the caves is to take a shorty day trip from Kuala Lumpur to the Batu caves. You can either take a Grab taxi or the Kommuter train which goes directly to the caves. The train is the fastest and cheapest way to reach the Batu caves from Kuala Lumpur city center.
Thean Hou Temple
What's undoubtedly one of my favourite places to see in Kuala Lumpur, Thean Hou temple comes right on top of my list. The temple is located very close to the Kuala Lumpur city centre, a short taxi ride away. It opens at 8 in the morning and entry is free, much like the other sightseeing places in Kuala Lumpur. Come here early in the morning to beat the crowds and get a picture for the gram.
Masjid Wilyah
Take another grab taxi to reach Masjid Wilyah which opens at 10 am. This magnificent mosque offers a free tour guide service near Gate B. My wonderful tour guide explained the architecture of the mosque in detail. She told me that the dome has been inspired by the Blue Mosque in Turkey. The minarets on the side are Egyptian architecture whereas the decorative arches have been inspired by the Taj Mahal. In fact, they even imported gemstones from India to complete the design. I learnt a lot about Islam as a religion and some religious practices here. I highly recommend visiting this mosque to anyone sightseeing in Kuala Lumpur.
Merdeka Square
What's probably one of the popular hangout spots in Kuala Lumpur, Merdeka square or the Independence square is located opposite to the Sultan Abdul Samad building. I recommend visiting the Merdeka square during the weekends since the road is blocked for vehicles so you can easily walk around and take pictures.
River of Life
What's once again one of the most popular sightseeing places in Kuala Lumpur, the river of life is located close to the merdeka square. It's got a big fountain and a structure that mimics the Sultan Abdul Samad building. In the evenings during the weekend, there'll be local musicians performing here and there's even a light show for visitors to enjoy.
I Love KL Sign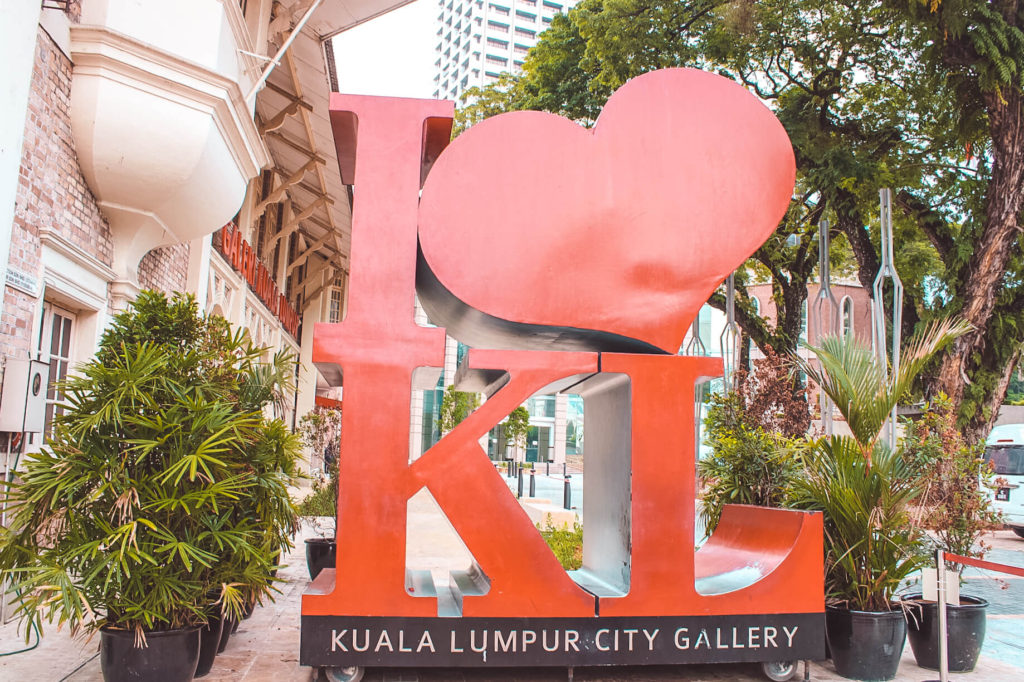 The I love KL sign is the picture-perfect addition to your Instagram feed while sightseeing in Kuala Lumpur. You can find this sign outside the Kuala Lumpur city gallery near the Merdeka square and textile museum. There's no charge for taking pictures here but you might have to wait in a queue before your turn to take pictures here!
China Town
China Town is a vibrant bursting section in Kuala Lumpur. You can take the purple line GoKL bus to get down at Kota Raya and explore Chinatown. Make sure you take in all the smells, sights and temples here in Chinatown.
Shopping at Petaling Street
Petaling Street is a popular shopping centre in Chinatown Kuala Lumpur. Here you'll easily find lots of shops selling trendy handbags, clothes and souvenirs. In fact, you'll even find plenty of food stalls selling Chinese street food here. Spend one afternoon strolling through Petaling street and eating as well as shopping your heart out. It's easily one of the most popular and best places to visit in Kuala Lumpur for shopping.