Disclosure: This post may contain affiliate links. I earn from any qualifying purchases, at no additional cost to you.
Quiet villages sprawled over mountains, bright green paddy fields swaying with the wind, tranquil monasteries, scrumptious momos, clouds casually strolling by amongst people, terrible roads and friendly people. Sikkim has made a special place for itself in my heart. Life among the clouds in Gangtok brings peacefulness to my mind every time I look back to my trip.
Sikkim is a tiny state in the North East region of India. It isn't a tourist hot-spot even though I strongly feel it should be. Apart from the breath-taking views, the Nathula pass, colorful monasteries and delicious food, the people in Sikkim are such kind and friendly folk. I was in Gangtok during Diwali where fire crackers were banned all across Sikkim to prevent pollution. That really resonated with me because I have always been ardently against the use of fire crackers during festivals. The people of Sikkim understand the value of and respect Nature.
Here's a Gangtok guide to help you plan a visit to the city.
Gangtok Hotels - Get a Room with a View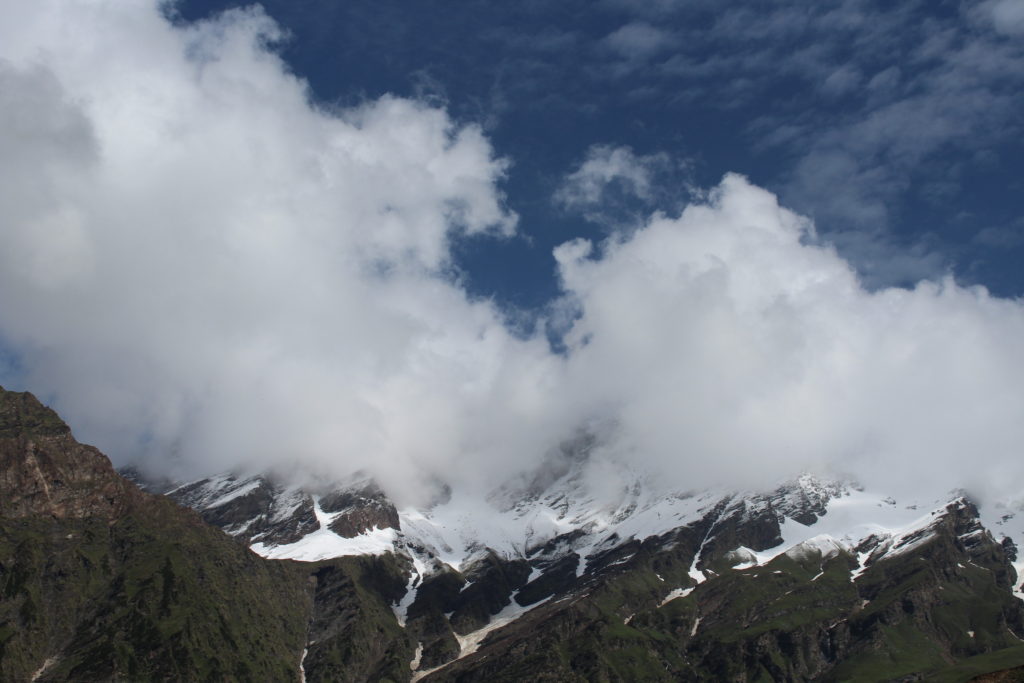 Imagine waking up in your hotel room only to see clouds right outside your window as you enjoy a steaming cup of tea, nestled in a cozy blanket. That's the dream. Avoid booking a hotel right in the middle of the hustle and bustle of the city. While it might seem like a good option to stay inside the city but you don't want to be missing out on breathtaking views from your window, do you? Plus, most of the places to visit in Gangtok are outside the city so you won't be missing out on much action by staying on the outskirts of the city.
Rumtek Monastery
The Rumtek Monastery in Gangtok, sitting gloriously on a hill is the largest monastery in Sikkim and among the most popular Gangtok attractions. The complex houses the main shrine temple, the monastery, a retreat center, a monastic college, a golden stupa and other religious and community establishments. The gratifying walk up to the monastery takes you through a line of prayer bells, souvenir shops, sprawling green landscape and benches offering unobstructive views of mountains. Also known as the Dharma Chakra Center, the monastery is the seat of the Karma Kagyu lineage. The monastery is thus famous around the world, especially among the Tibetan Buddhists. Do note that foreign visitors will require a special permit. The visiting fees, however, are minimal. Among all the Gangtok attraction, I found this one to be the most peaceful and tranquil spot.
Ganesh Tok and Tashi View Point
These two points are close together. Ganesh Tok is a temple with balconies that overlook valleys, mountains and clouds passing through them. There are ladies who will dress you up in a traditional costume for a minimal fee to have your picture taken. The costumes are rentals.
Tashi view point is exactly what the name says - a view point. Take your time to sit there, have a cup of chai or coffee and enjoy the clouds passing by.
These are popular tourist points so don't be disappointed when your pictures contain lots of people in them.
Tsomgo Lake
WHERE? 40 km from Gangtok, 10 km from Nathu La Pass
A placid lake sitting in the midst of rugged landscape and steep mountains, the Tsomgo lake lies on the way to Nathu La pass. It is undoubtedly one of the best things to do in Gangtok. Tourist attractions such as yak rides are offered here. There are also plenty of food stalls set up nearby, selling momos, soups, thupkas and hot drinks which provide relief from the extreme cold weather.
The lake can be visited on the same day that you have planned on visiting the Nathu La pass. If you do not get a permit for the Nathu La pass or the road to the pass closes, you can still visit the lake. The lake is undeniably the cleanest lake I have seen in India. It's a must-visit spot on my list.
Nathu La Pass
WHERE? 56 km from Gangtok
A trip to Sikkim is wasted is you haven't visited the Nathu La pass. Located at a height of 14,140 ft above sea level, it is one of the five officially agreed Border Personnel Meeting points between the Indian Army and the Chinese Army for regular consultations and interactions between the two armies to improve relations.
It is a mesmerizing moment when you witness the Indian and Chinese soldiers standing face-to-face guarding their respective nations. The valor and importance of the Indian Army is evident in that moment.
Only Indian nationals can visit the pass on certain days of the week and a permit is required. You can talk to a travel agent or apply for the permit yourself. A limited number of vehicles are allowed, so be sure to apply on time. If there is heavy snowfall, the road closes. You will have to plan in advance in order to visit the pass. Standing on the Indo-Chinese border, witnessing the gallantry of the soldiers, puts the Nathu La pass right on top of the must-visit places when in Gangtok.
Baba Harbhajan Singh
WHERE? 56 km from Gangtok, 8 km from Nathu La Pass
Though the official version of Major Harbhajan Singh's death is that he was a victim of battle at Nathu La, where many battles took place between the Indian Army and the PLA during the 1965 Sino-Indian war, according to legend, Baba Harbhajan Singh drowned in a glacier while leading a column of mules carrying supplies to a remote outpost. His remains were found after a three-day search. His body was subsequently cremated with full military honors. The legend further claims that the late Singh who helped the search party find his body. Still later, through a dream, he instructed one of his colleagues to build and maintain a shrine in his memory. Some Indian soldiers believe that in the event of a war between India and China, Baba would warn the Indian soldiers of an impending attack at least three days in advance.
Do visit this shine on returning from Nathu La pass.
Eat Momos and Thukpa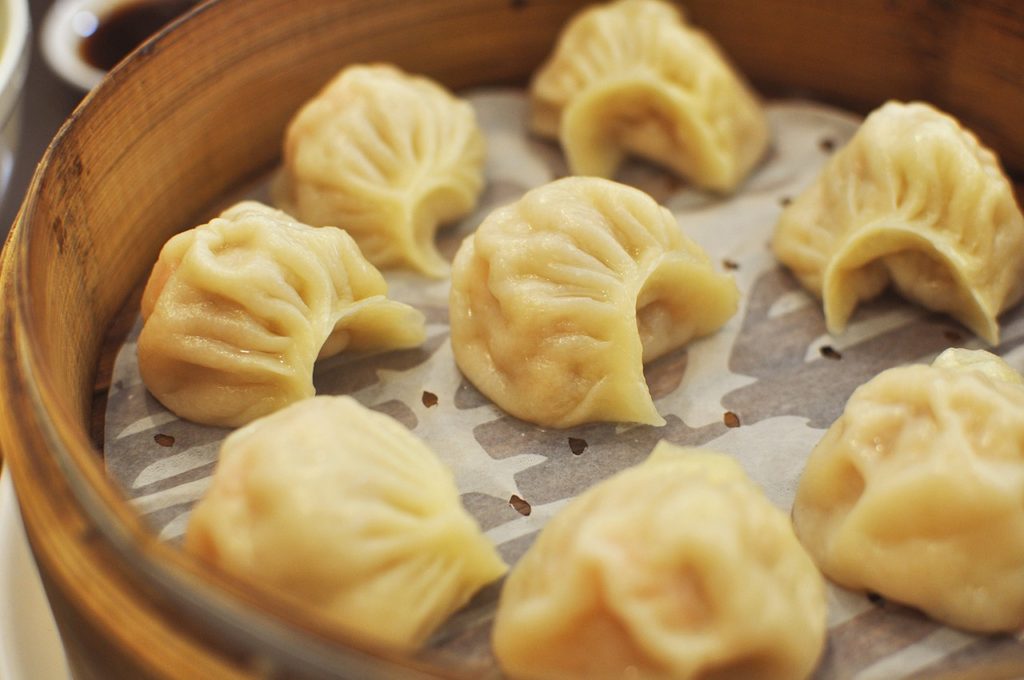 Through out my journey across Gangtok, I ate nothing but momos, thukpa and noodles - three(or more) meals a day. Not kidding.
A momo is a steamed dumpling with a filling of veggies and/or meat. There is also a fried version of the momo with a meat filling. A plate of momo usually contains about 6 succulent momos served with a luscious spicy chutney. If you eat momos in Sikkim, they will spoil you for life. No momo will ever be good enough! Thukpa is a noodle soup, of Tibetan origin. It has a lot of veggies and a ton of flavor. Personally, I prefer the momo and spicy chutney combo over the thukpa.
Both these dishes have originated in Tibet and are available at every stall you will come across in Gangtok. They just cannot be missed!
Shopping at MG Road Gangtok
A clean stretch of approximately 1 km, the Mahatma Gandhi Road or M G Road of Gangtok is located right in the heart of Gangtok city. A pedestrian-only zone, the street is lined up with shops, cafes and food stalls. There are benches lined up throughout the center of the street. In the evenings, locals come here to eat, shop, meet-up or simple take a stroll along the street lit up with lamps. It's the perfect place to be with your loved ones in the evening.