Disclosure: This post may contain affiliate links. I earn from any qualifying purchases, at no additional cost to you.
How to Reach Pondicherry
Pondicherry is a Union Territory in India geographically located inside the state of Tamil Nadu. It's close proximity to Chennai as well as Bangalore makes it a popular weekend getaway among students and working professionals.
By Road
The journey from Chennai to Pondicherry takes less than 3 hours by bus. There are regular buses plying all day from Chennai to Pondicherry. On the other hand, Bangalore to Pondicherry takes anywhere between 6-8 hours depending on the mode of transportation and the traffic. There are overnight buses running between Bangalore and Pondicherry daily.
By Air
Chennai airport is the closest airport to Pondicherry. One you land at Chennai aiport, catch the airport metro to Guindy. You'll find buses to Pondicherry from Guindy bus stand. The journey from Chennai to Pondicherry can be covered within 3 hours.
Pondicherry (also known as Puducherry/ Pondi/ Pondy) was under European (mostly French) rule for more than 250 years. Having joined India in 1954 as a union territory, Puducherry has still managed to retain a major part of it's French culture. In fact, it's this French influence which predominates the first half of the movie Life of Pi. When I watched this movie, 6 years ago, back when I was in first year of college, I inculcated a strong desire to visit Pondicherry. I'm delighted that I got to check off this charming place from my bucket list. This article serves as the ultimate list of things to do in Pondicherry - containing information on the places to visit in Pondicherry, where to eat in Pondicherry and what to pack for Pondicherry. Happy reading!
Things to do in Pondicherry:
When I look back at my Pondicherry trip I remember sprawling courtyards, colourful walls, plentiful flowers, endearing cafes and a romantic promenade. All these reasons make Pondicherry an ideal weekend getaway. While there's isn't a whole lot to do here, you can can sit back in a cute little cafe and devour a croissant or walk around the flower laden streets. Better yet, rent a bicycle and blend in with the locals. Take a look at the things to do in Pondicherry:
1. Promenade
The promenade is a long, clean road alongside the ocean, stretching for approximately 1.5 km. It's an ideal place to start your morning with a jog or to spend the evening leisurely walking along. While on one end of the promenade is a pier, the other end is marked by a statue of Mahatma Gandhi. In the mornings, this stretch of road is deserted whereas it gets extremely crowded in the evening. I personally liked it more in the morning when there was hardly anyone on the road. Do remember to catch the sunrise from here. There are plenty of restaurants, shops and stores adjoining the promenade. My favourite restaurant here is Bay of Buddha. Get here early for a romantic dinner on a rooftop overlooking the ocean.
2. Old Lighthouse
Located on one end of the promenade is an old lighthouse. While I'm not aware if visitors are allowed inside, it's a charming old thing to photograph from the outside. While you're here, grab a bite at Le Cafe which has a terrace overlooking the ocean. There's another lighthouse on the opposite end of the promenade which is open to visitors.
3. Our Lady of Angels Church
Colored in a deeper tone of peach, this glorious church rests surrounded by the streets Dumas, Surcouf and Romain Rolland. Visible from the promenade, the church is located at a distance of 500 m from the old lighthouse. While the upper part of the church was made in the Ionic style, the lower part was inspired by the Doric style of architecture. The inside of the church is spacious, airy and has a number of intricate paintings adorning the walls. I sat inside the church on an afternoon while visiting the white town area. It was a relaxing and rejuvenating stop for me. When it comes to things to do in Pondicherry, the many churches are worth paying a visit.
4. Basilica of the Sacred Heart of Jesus
The Basilica is located in the Southern Boulevard of Pondicherry, on the MG Road, and is an example of Gothic architecture. The 100-year old church has numerous stand-out features. Some of these features include stained glass windows, walls adorned with terracotta motifs and twin spires and a sparkling interiors. Come here during mid-morning to enjoy some quiet time to introspect inside the church.
5. Sri Aurobindo Ashram
Sir Aurobindo, after retiring from politics, settled down in Pondicherry with a bunch of followers and started a spiritual movement. His remains, along with those of Mother, his spiritual partner, are laid to rest here at the ashram. Devotees and tourists line up outside the ashram to pay homage to him. The people at the ashram are extremely particular about maintaining silence and request all visitors to turn off their cellphones. Once inside, you can visit the samadhi (tomb) and sit in the ashram courtyards. It's a peaceful place with gentle breeze and only the sounds are those of birds chirping. There is also a book store where you can get more information about the ashram, Auroville and the founders of both. The ashram premises can be identified by the distinct gray walls.
6. White Town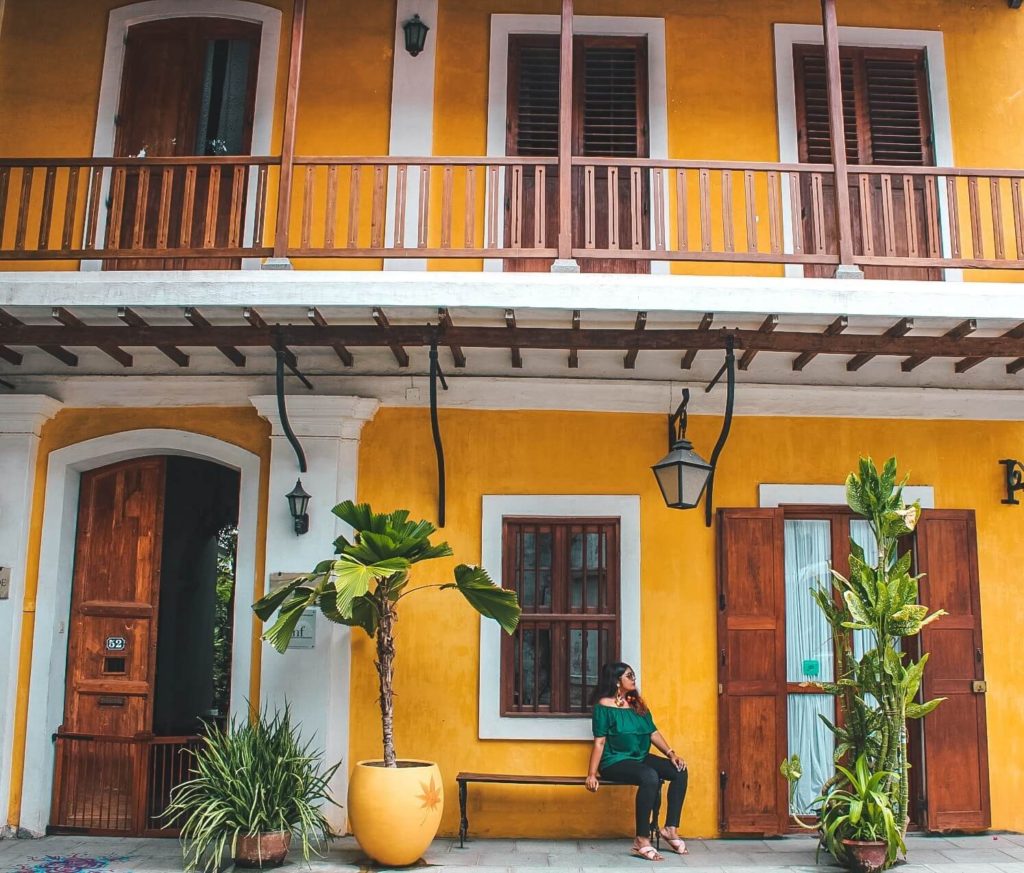 Pink bougainvillea flowers peering over colourful walls, French street names and artsy cafes are the highlight of the white town area. White town is named as such because it used to be an area reserved for the "white" French folk settled in Pondicherry. One can easily spend an entire morning walking around, sampling French food, basking in the vibrantly hued houses and photographing beaming bicycles parked against flower laden walls.
Also known as the French Quarters, most houses in this area have been converted into heritage hotels, boutique cafes and art galleries. Cafe des Arts is a great cafe here that is not to be missed. This area is best explored by foot or on a bicycle for the simple reason that you will want to stop and take a picture in front of every other wall. The main streets composing white town are Rue Dumas, Rue Romain Rolland, Rue Suffren and Rue La Bourdonnais. Keep one morning aside just to walk around these streets and practice your French on random passersby. Comment allez-vous? 
7. Auroville
Auroville is a universal town where people from all over the world live together in harmony. The concept of Auroville was conceived by the Mother in the 1930s. In 1966 UNESCO passed a unanimous resolution commending it as a project of importance to the future of humanity, thereby giving their full encouragement. On 28th February 1968 some 5,000 people assembled near the banyan tree at the centre of the future township for an inauguration ceremony attended by representatives of 124 nations. The representatives brought with them some soil from their homeland, to be mixed in a white marble- clad, lotus-shaped urn, now sited at the focal point of the Amphitheater.
The Matrimandir is at the centre of Auroville, shown in the picture above. A heliostat at the top of the mandir reflects a ray of sunshine, which travels through different layers and touches the 'lotus pond' at the bottom. It thus, completes the link between spirit and matter. Keep in mind that you need permissions beforehand, in order to visit in Matrimandir. Check out the Auroville website for more details.
8. Serenity Beach
Serenity beach can be found on the way to Auroville, as you exit from the city. It's a petite beach with white sand and plenty of rocks. Besides, the beach is usually deserted. The only people you might encounter on the beach are the surfers from the Kallayali Surf School or curious explorers like you. It's imperative for me to mention that if you feel adventurous, sign up for surf lessons at the Kallayali Surf School which is located at serenity beach. You can go for 2 or 3 sessions, depending on how long you're staying in Pondicherry. An added bonus is that you get bragging rights and killer pictures !
Pondicherry Restaurants - Where to Eat in Pondicherry
There's no doubt that Pondicherry has some great restaurants. Based on all the Pondicherry restaurants that I tried, I made a list of the best Pondicherry restaurants. Some of them are so good, I made my parents parcel food from there and fly it back to Goa when they visited Pondy. Yup, it's that good. You can read this guide to the best restaurants in Pondicherry.
Pondicherry Hotels - Where to Stay in Pondicherry
While there are hotels all across Pondicherry, it would be ideal to stay near the white town area. This way, you will be in close affinity to the promenade and most of the good restaurants and cafes. I highly recommend staying at Villa Monte Carlo in white town. It's situated right next to the extremely popular Cafe des Arts. The rooms here are clean and spacious. Each room comes with a massive bed, cupboard, study table, television and air conditioning. What's more, the staff here is absolutely wonderful, always greeting everyone with a smile. Another great selling point of Villa Monte Carlo is that they have rooms for different budgets.
What to Pack for Pondicherry?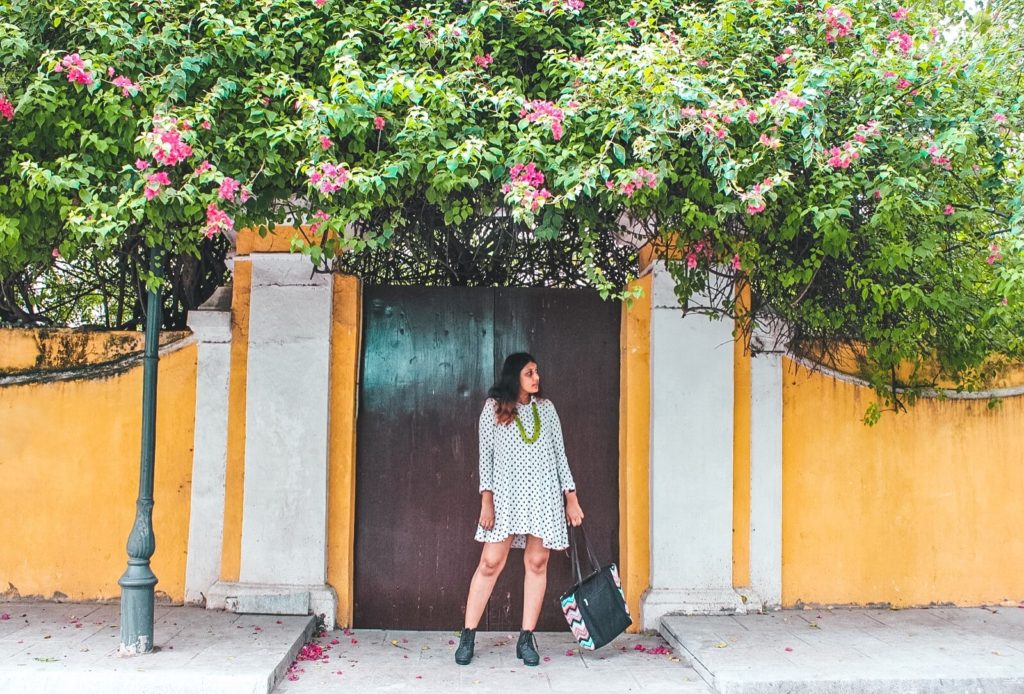 The White town area of Pondicherry is particularly one of the most picturesque areas there. Make sure you pack fun, bright coloured clothes. Maxi dresses and maxi skirt will work wonders. Read this guide on what to pack for Pondicherry.