There's no doubt that Goa is the top destination of every college group and professionals looking for a break. While the beaches are the obvious choice of go-to place, there is much more to Goa than just that. With every passing day, more tourists are turning into travelers. That is to say, they want to explore the history and the cultural aspects of the place, rather than just sit at a beach all day. Although I must say, the prospect of sitting on the beach with chilled beer all day is quite appealing. If you're a beach bum like me, checkout the section of all the Goa beaches. Patnem beach, in particular, is my favorite beach in Goa! However, if you want to explore Goa beyond the beaches and click amazing pictures along the way, I've got a list of the most Instagrammable spots in Goa!!
Fontainhas - The Old Latin Quarters of Goa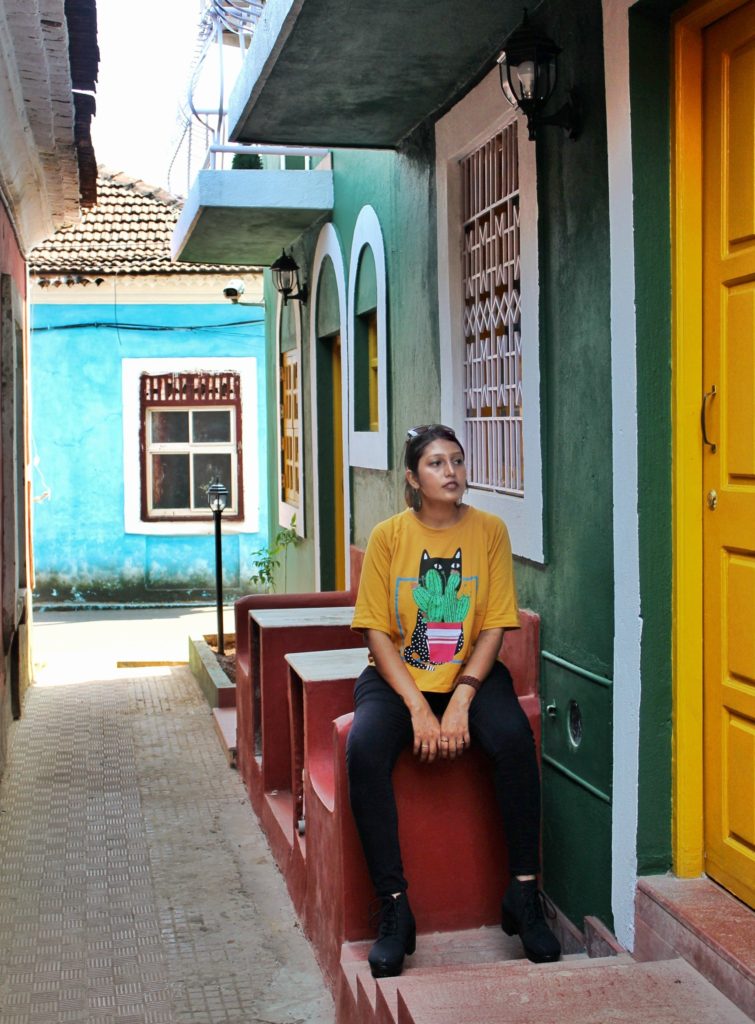 Fontainhas is a colorful neighborhood in Panaji city. In fact, it is the old Latin quarter where the Portuguese rulers were once settled. Once upon a time, Old Goa used to be the capital city of Goa. An epidemic disease drove the rules away from Old Goa and brought them to Panaji city. It's here in Fontainhas that an unplanned colourful neighborhood sprung up immediately. The Portuguese have left behind their legacy in the tiny lanes dotted with colorful houses and fascinating staircases. While it's possible to spend an entire day here, try to spare atleast a couple of hours to explore this neighborhood. Not only will you catch a glimpse of Portuguese architecture, but you will also change upon some great cafes and restaurants in this area. It's close proximity to Panaji city makes it the perfect destination for your next Instagram shoot!
The Churches of Divar Island
Divar Island is a sleepy little island tucked away in the Mandovi River. It is located roughly 5 km from the Panaji bus stand. This island has been untouched by time and the people of this island have ensured that organisation doesn't take away the charm of the island. To reach Divar island, get on the road to Old Goa via Ribander. After 5 km you will come across a ferry terminal near the Gene Garden restaurant. From here, a leisurely ferry ride will take you to the island. Once you reach the island, walk or ride across the empty road along the open fields and a solitary village. The church, in the picture above, is located on a hillock at the end of this village. From the church, you will get a clear view of the island, Old Goa and some of Panaji city. Divar island is one my favorite offbeat places to visit in Goa. It's not one to be missed !
Sunaparanta Art Gallery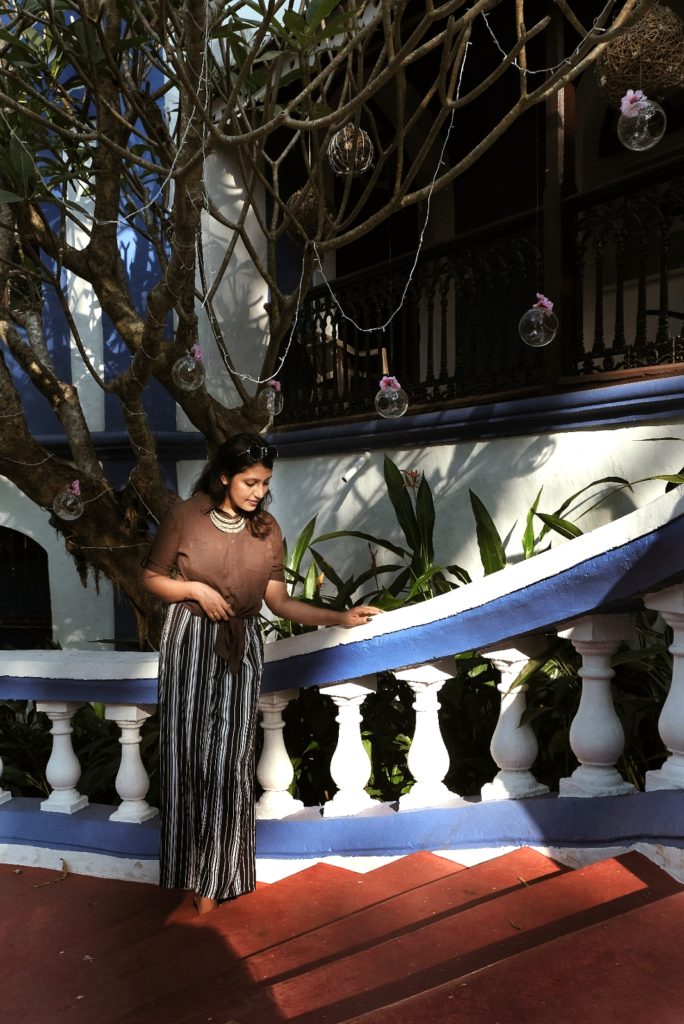 Sunaparanta Art Gallery is a part of the famed Cafe Bodega. Both of these are located in a quaint Portuguese bungalow in the plush neighborhood of Altinho, Panaji. The decor of this place automatically takes you back a few years to a more peaceful time. There's an old-world charm about this art gallery. Whether it's the subtle floral decor, or the tranquility of the neighborhood, Sunaparanta manages to exude a whole lot of charm. Moreover, it has a wonderful cafe where you can sit back, enjoy a delicious red velvet cake and spend the afternoon dreaming of the 80's. I used this art gallery as the backdrop for my fashion photo shoot showing off my striped pants.
Do note that DSLR photography requires prior permission from the management. However, you're free to click pictures from your mobile, without any hindrance.
Bohemian Cafes
It should come as no surprise that Goa has an abundance of Instagram worthy cafes. Whether you're looking for a bohemian vibe or an artsy place, whether you want to experience a Portuguese bungalow or a hip joint to hangout with friends, Goa has every kind of cafe. While I can write a whole big article on my favorite cafes for food and for taking pictures, I'll restrict myself to just two for the time being. Eva cafe, located in Anjuna is a marriage of the Greek island Santorini with bohemia. Here, you can expect white washed walls, lace and burlap mats, dream catchers, seashells and views of the ocean. It's the perfect place to bring along a loved one, have the gentle winds tease you and watch the sun go down together. Naturally, it's also a cafe where you can get stunning pictures that might trick your friends into thinking that you're abroad - in Greece! Another great restaurant for heavenly views is Purple Martini, also located in Anjuna.
Reis Magos Fort
Standing proudly on the bank of the Mandovi river, Reis Magos fort is a 16th century fort facing Panaji city. While the fort itself isn't as grand as you would expect it to be, it has a unique layout which is perfectly captured in photographs. Spiral stairways, stone pathways and little wooden balconies will make the perfect props for you pictures! Moreover, you will get unobstructed views of the expansive ocean and the Panaji city from the top of the fort. My favorite spot at Reis Magos fort was the spiral staircase at the corner of two walls blanketed with greenery. The fort is located 18 km from Panaji bus stand, on the opposite bank of the Mandovi river.
Did You Enjoy this Article?
If you liked this article, I'm guessing that you love showing off your pictures as much as I do! You can get more travel photography inspiration from my Instagram handle, @thespicyjourney. Follow my journey as I search for beautiful destinations, funky cafes and flower-laden streets!