Disclosure: This post may contain affiliate links. I earn from any qualifying purchases, at no additional cost to you.
My love for the South Goa beaches is ever-lasting. It's the forever kind of love that never fades away. Right from the empty beaches to colourful shacks and cafes nested in forests - there's nothing to not love about this region. In all honesty, I feel terrible about writing this post because I don't want South Goa to end up being crowded and touristy like North Goa. Nonetheless, I'm excited to showcase the relatively unexplored half of Goa. This post is a complete guide to South Goa, covering the things to do in South Goa, the best beaches in South Goa as well as the best restaurants and hotels in South Goa.
South Goa Beaches
Most of the South Goa beaches are pristine and untouched by crowds. The beaches here fall between both ends of the spectrum. There's Palolem beach and Patnem beach, which are popular, have colourful beach huts and host some of the best South Goa beach resorts. On the other hand, beaches like Cola beach and Cabo de Rama are rarely known to visitors. 
1. Colva Beach
While Colva beach, by itself, has nothing much to offer, it remains popular among the Indian crowd. It's not a beach where you expect calmness, let alone, much room to relax by yourself. Nevertheless, Colva has some good food joints. Mickey's is one of the popular beach shacks among the locals. The Red Ginger is popular for it's Asian cuisine. The major plus point of this beach is it's close affinity to Margao city.
2. Benaulim Beach
Benaulim beach is located approximately 10 km from Margao city. During the on-season shacks are set up along the beach. Some of the popular ones being Roger's and Johncy. A decent crowd coupled with a long stretch of tranquil beach make this a favoured South Goa beach among the locals. If you're looking for a beach shack with music and a fun crowd, go to The Southern Deck. It's a popular hang-out spot of those looking for a night of dancing.
3. Cavelossim Beach
Cavelossim is popular among a handful of locals as well as foreign tourists residing in the resorts nearby. The area is home to a bunch of beautiful resorts. One of my absolute favourite restaurants which is arguably one of the best restaurants in Goa is located at Cavelossim, known as Fisherman's Wharf. It happens to be located on the riverside. You can sit there on a quiet afternoon and enjoy your fresh food while watching the lapping waters of the river. This restaurant is a must-visit if you're in the vicinity. Read my entire review on Zomato.
4. Cabo-de-Rama Beach
If you're in Goa, looking for a beach that's not swarming with tourists, and where your friends or family can roam around and have ample space for your games and activities, Cabo de Rama is the best South Goa beach for you. You can stand on a cliff and stare down at the beach and the mesmerising landscape. Next, walk down the rocky steps and enjoy a solitary beach all to yourself. As a matter of fact, I've written an entire post on cabo de rama beach. Once you're done relaxing at the beach, head to The Cape for a romantic dinner with your loved one. You can thank me for this recommendation later.
5. Cola Beach
Cola beach is, without a doubt, one of the best South Goa beaches. In fact, my pictures don't do justice to the charm of this beach. The beach is located about 15 minutes from Agonda beach. The road pretty much disappears for a short stretch. It's just rocks and sand for a while. Both 2 and 4 wheelers can navigate through this stretch. Once you reach the end of the road, you'll be at the top of a cliff with steep steps to get down to the beach. As you climb down these steps you'll get an enchanting view of the beach and lagoon. The hill is dotted with huts and the only people on the beach are the ones staying in them and a few other curious souls. Furthermore the shacks and lounge chairs there are mostly unoccupied. You can kayak, swim or simple play around in the lagoon, where the water is fairly shallow.
6. Agonda Beach
Agonda beach is yet another undisturbed South Goa beach. Frequented mostly by foreigners, Agonda is a secluded area known to a handful. What I love the most about this place is the vibe here. While there are shacks lined up along the beach, there's a road that goes parallel to the beach. There's a myriad of little shops selling boho dresses, bags and decorative items on this road. Additionally there are numerous boutique cafes. Walk along this road to soak in the bohemian vibe. P.S. Blue Planet Cafe is a vegan/ vegetarian cafe serving organic food that's located 2 minutes from Agonda beach. Do try it out while you're hopping along the South Goa beaches.
7. Palolem Beach
It's not difficult to guess why Palolem beach is one of the most popular beaches in Goa. Coupled with colourful beach huts and a fantastic crowd, Palolem is the place to be if you're looking for the freedom to wear whatever you like, without any unwanted eyes on you. I highly suggest staying in a beach shack right by the beach. Spend an entire day bathing, eating and reading a book in one of the many colourful huts on the beach. Next, have a romantic dinner on the beach then head to a night club nearby. It doesn't get better than this. There are some popular eateries in Palolem such as Little World, Art Resort Cafe, Ferns and Magic Italy. Read the complete guide to Palolem Beach Goa.
8. Patnem Beach
Patnem beach, located 40 km south of Margao city, is like the twin sister of the famous South Goa beach i.e Palolem beach. The road leading up to the beach is a vibrant and colourful narrow lane dotted with shops selling colourful beach wear. The beach is equally cheerful, lined up with huts which are rustic yet bright. Almost all the shacks have lounge chairs outside to sit and enjoy on the beach. Alternately, you can sit inside the shack, sip a cocktail and observe the waves from a distance. I had the best day out at Patnem. Read my entire experience of chilling at the beach huts in Patnem beach.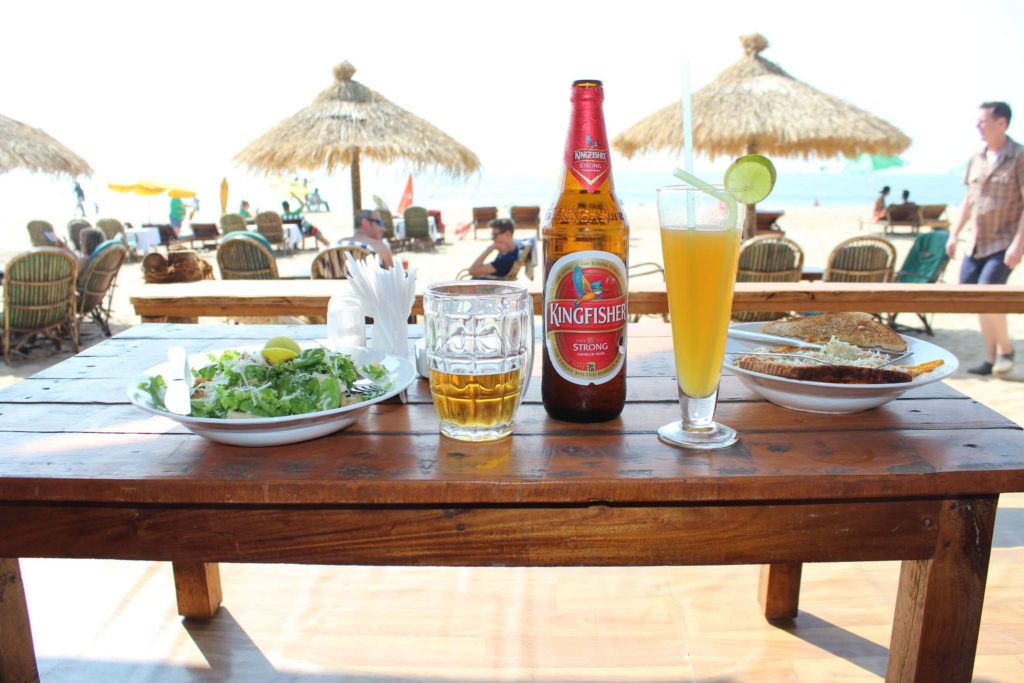 Where to Stay - Hotels in South Goa
There's no shortage of some great hotels in South Goa. Benaulim, Varca and Palolem are the areas where most of the South Goa hotels are located. In Palolem, O3 beach resort, Art resort and Club Palolem resort are some of the popular beach huts. You can search for the hotels using the search box below.
Nightlife in South Goa
Silent Noise
At Silent Noise, wireless headsets allow those people that want to party to do so, while nobody else is disturbed. You can rock all night long while anyone passing by can't hear a thing. The headsets have 3 music channels. You can change the channel on your headset and dance to your tune. Silent Noise is located right next to the Palolem beach. It's a prime location and a unique nightclub in Goa.
Leopard Valley
Leopard Valley is the perfect combination of a jungle, pool, music and fire shows. Located close to both Agonda and Palolem, it's a great spot in the middle of nowhere. This being said, ensure that you have a ride back to your hotel/ resort as there won't be any taxis nearby. All in all, it's going to be a great experience.