Disclosure: This post may contain affiliate links. I earn from any qualifying purchases, at no additional cost to you.
Anyone travelling to Goa is bound to visit North Goa. North Goa is known for it's crowded but lively beaches, the instagrammable cafes and restaurants as well as the many places to visit in North Goa such as the forts, clubs and other sightseeing places. This handy North Goa guide consists of all the information you need to plan a happening Goa trip.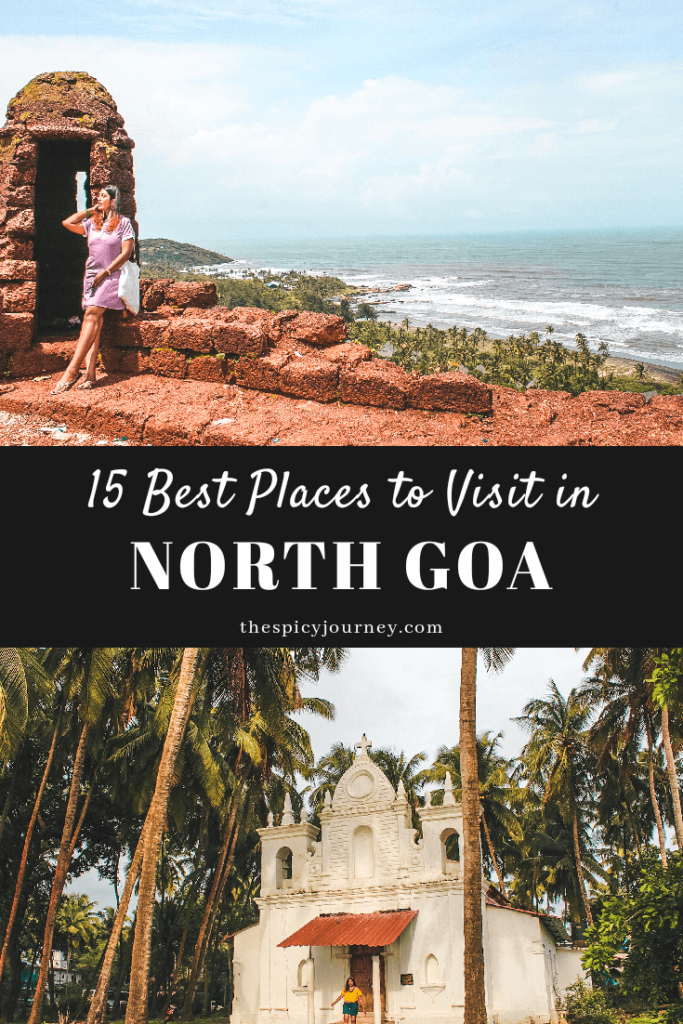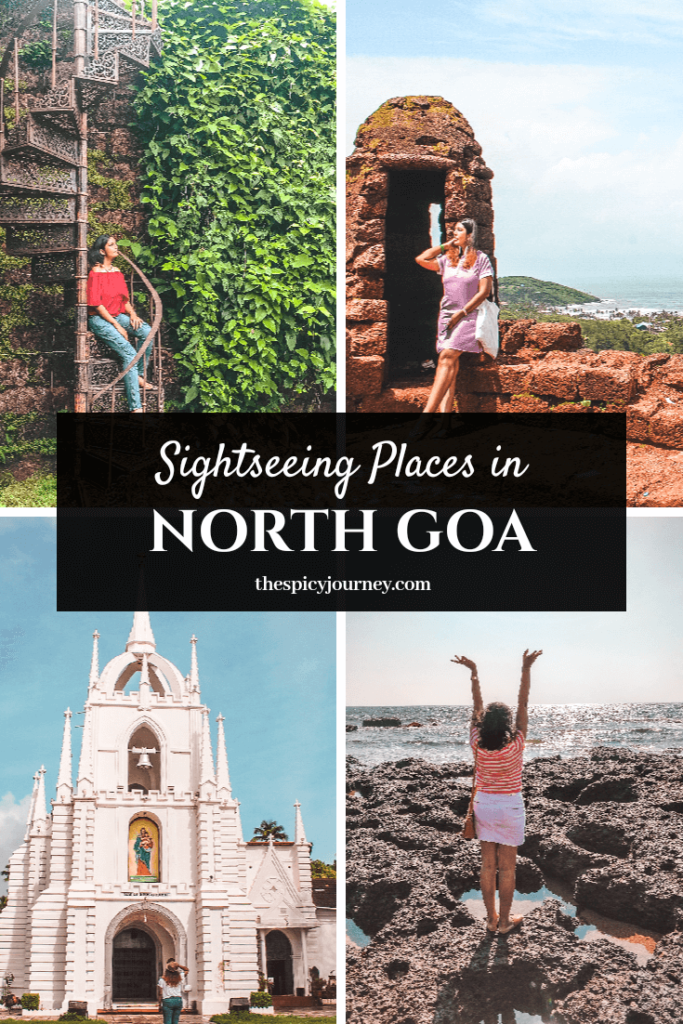 Places to Visit in North Goa - Sightseeing
When it comes to places to visit in North Goa, there's no shortage of sightseeing options. From forts to beaches to art centres, churches and interesting neighbourhoods, you'll find it all in North Goa.
1. Chapora Fort
Chapora fort has been made famous by the cult classic move 'Dil Chahta Hai'. As a matter of fact, even today you can see college students enacting the famous shot of the movie here. The fort is located very close to vagator beach. There's a little bit of climb involved in getting here but the view from the fort is well worth the climb!
2. Aguada Fort
Aguada fort is one of the most impressive Portuguese forts still standing intact in Goa. You can visit this fort on all days of the week from morning 9.30 am till 5.30 pm in the evening. This majestic fort also holds a lighthouse and you can see a panoramic view of the Mandovi river meeting the Arabian sea from the fort. The fort is located in the Sinquerim area in North Goa and you can combine a visit to Aguada fort with the Sinquerim fort. Read more about Aguada Fort in detail.
3. Sinquerim Fort
Sinquerim fort is a fun little place located in Sinquerim, quite close to Aguada fort. The fort overlooks the seaside. During the high tide, waves from the ocean wash up against the fort walls creating water showers. It's a lot of fun just standing there and waiting for the waves to hit you.
4. Reis Magos Fort
Reis Magos is one of the most beautiful places to visit in North Goa. As soon as you enter the fort, you'll be mesmerised with the location, unique architecture and the layout of the fort. In fact, the fort even houses a museum where you'll learn a lot more about it's history. The timings of Reis magos fort are from 9.30 am to 5 pm and the fort is closed on Mondays. Read about on the official website.
5. Parra
Parra has been made famous by the recent Bolloywood movie 'Dear Zindagi'. In fact, the road became so famous after the movie came out that the road has even been named as the 'Dear Zindagi road' on google maps. You can type either that or 'Parra chapel' into maps to reach here. This unique spot where there are coconut trees and lush greenery on either side is one of the most popular places to visit in North Goa. Read more about it and other spots in my article on the most instagrammable places in Goa.
6. Panjim City
Panjim or Panaji is the capital city of Goa. It's identified by the beautiful river view on one side of the main road and colourful buildings on the other side of the road. You can easily find a whole bunch of things to do in Panjim and spend a whole day just there. Don't miss the famous Panjim church, Miramar beach, Dona Paula jetty and a Panjim river cruise while you're in the city.
7. Fontainhas
Fontainhas, the old Latin quarters of Goa has gained much popularity over the past couple of years. For one thing, the many colourful houses and staircases are quite appealing photo-worthy spots. You can see quite a few youngsters, couples and photographers shooting here all day. Secondly, the rich history has inspired many Fontainhas heritage walk tours. You can easily book a Fontainhas walking tour or bicycle tour to learn more about the history of this neighbourhood. You can also take a self-guided tour of Fontainas Goa by reading my article on the place.
8. Old Goa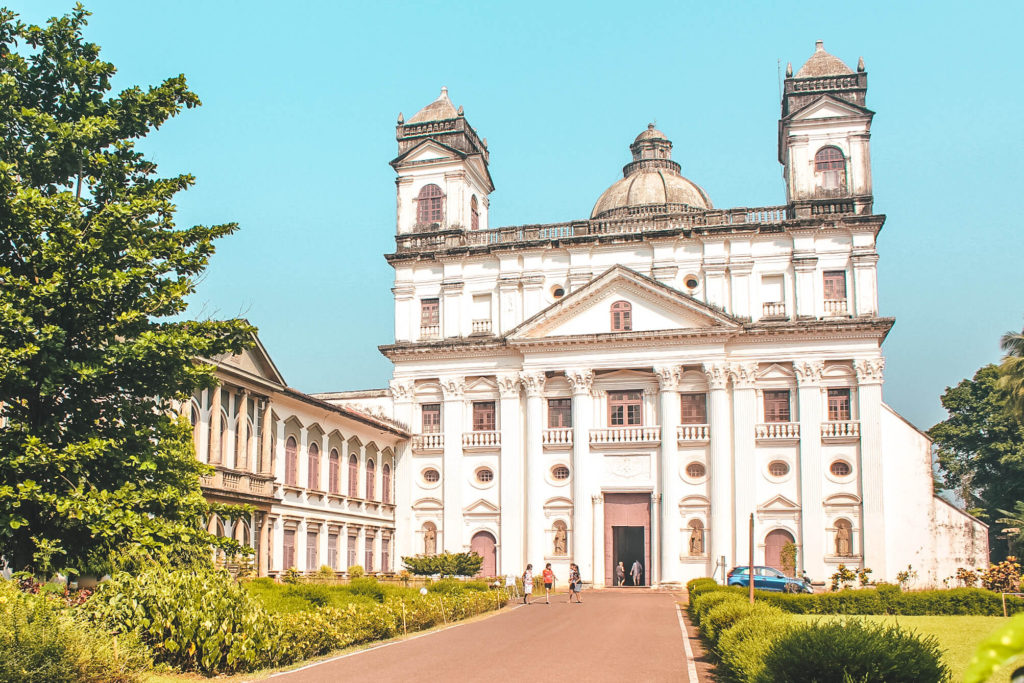 Take a day trip from Panjim to Old Goa. Here, visit the very famous Old Goa church and one of the many offbeat Old Goa attraction spots like Se Cathedral, St Cajetan church, St Augustine tower etc. Spare at least half a day to explore all the Old Goa attractions properly. You can even have lunch at a local riverside restaurant called Gene Garden which is near the Ribandar ferry point.
9. Divar Island
When we talk about the places to visit in North Goa or the popular sightseeing places in North Goa, it's hard not to ignore the offbeat Divar island. This island is located near Panjim city and can be reached by taking a ferry. The ferry point is located in Ribandar which is between Panjim and Old Goa. This island is one of the many offbeat things to do in Goa. Here you'll find sleepy village, endless greenery, hilltop chapels and such authentic Goan beauty all around!
10. Saligao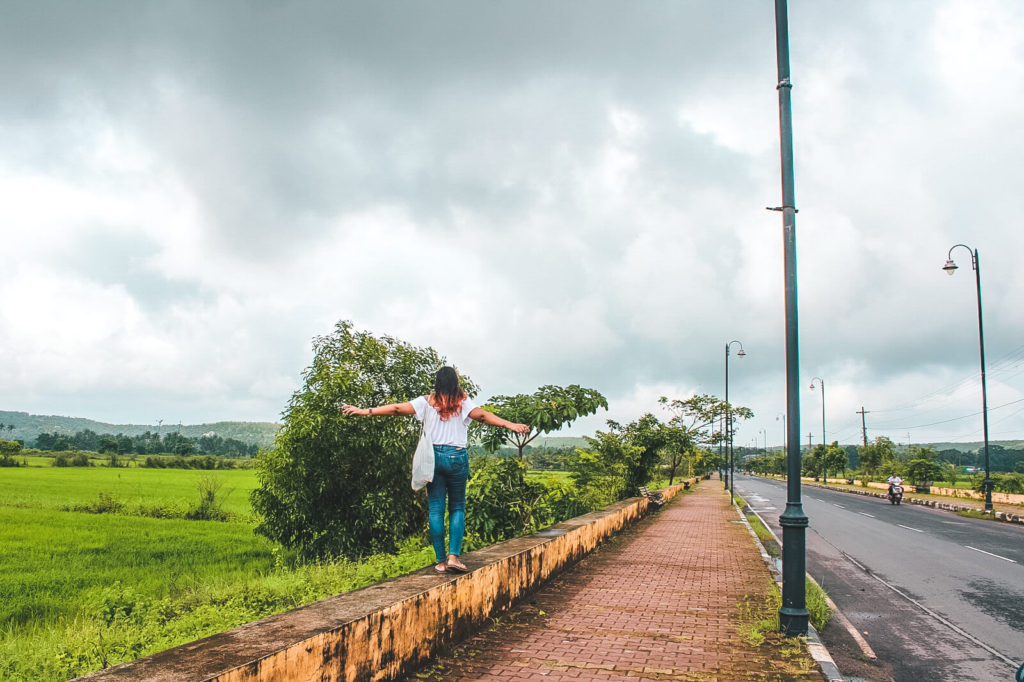 If you've covered the places to visit in North Goa and are just looking to chill out in a divine spot, this is the place for you. Saligao is a beautiful place in the heart of the North Goa sightseeing places. This particular road in Saligao is surrounded by open fields and decorated with lamp posts and benches to enjoy the views.
11. Mae de Deus Church
The Mae de Deus or Mother of Goa church is located in the beautiful area of Saligao in North Goa. This impressive church is an exemplary example of the Neo-Gothic style of architecture. While there are timings for visiting the inside of the church, you can walk around the outside premises at any time provided you're respectful and not too noisy.
12. Museum of Goa
A visit to popular places in North Goa is incomplete without a visit to Museum of Goa. The museum was founded by the popular Goan artist Mr Subodh Kerkar in the year 2015. The museum houses pieces of contemporary art, a gift shop, a popular outdoor art installation and even a cafe. You can drop by here while visiting some of the other places nearby such as Saligao and the Mae de Deus Church.
13. Vagator Hilltop
Coming to the North Goa beaches, Vagator is a popular beach. Known for the cliff side views, Vagator is a popular spot to spend the day bathing in the river, dining at some nearby restaurants such as Olive Goa or shopping for souvenirs. There are even quite a few street food stalls in this cliff top area and a few benches to relax and enjoy the view.
14. Anjuna
No visit to the North Goa sightseeing places is complete without heading to Anjuna. Anjuna is an area which has some extremely popular cafes, amazing restaurants, a beach with water sports and a rocky beach section. Not only that, you can get killer sunset views at Anjuna beach. Just head to the famous restaurant Purple Martini to enhance your sunset experience.
15. Siolim Riverside Chapel
Lastly, coming to some offbeat things to do in North Goa, why not visit a quiet riverside chapel where you'll hardly meet another soul?! The Siolim riverside chapel is one of the most beautiful places I've visited in North Goa and so it was heard not to include it in my North Goa guide. Combine a visit to this chapel if you visit the popular Thalassa restaurant which is now located in Siolim itself. The drive here takes you through small villages, unbelievable riverside views and lots of coconut trees.
North Goa Beaches
The North Goa beaches are always happening. You'll find a plethora of souvenir shops, beach shacks, party music, clubs and happy faces. Coming to the popular beaches in North Goa, Calangute beach and Baga beach are favourite ones among tourists. even Anjuna beach and Vagator beach count among the popular beaches in North Goa. If you want a more hippie crowd rather than a touristy crowd, head far north to Arambol beach, Ashwem beach and Morjim beach.
Restaurants in North Goa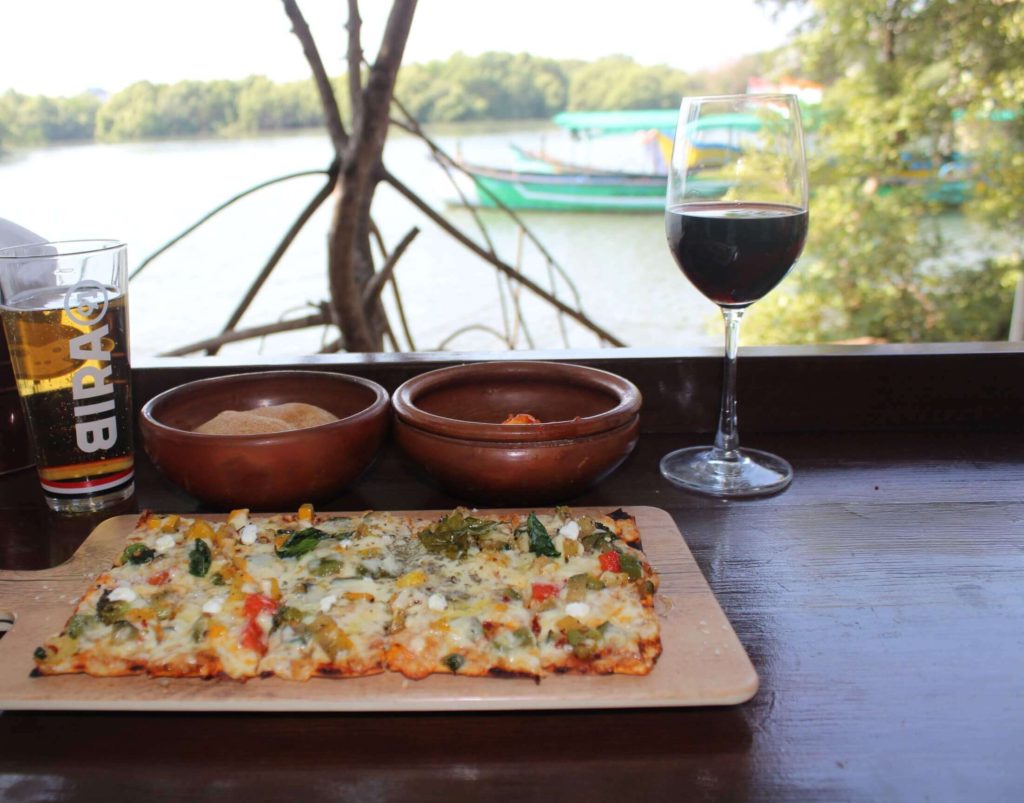 You can find some of the most famous restaurants in Goa located in North Goa. The North Goa restaurants range from beach clubs to beach side upscale to riverside romantic restaurants and trendy cafes. There's something here for everyone. In fact, there are so many popular restaurants in North Goa that I combined a list of the best restaurants in North Goa in an article.
Luxury hotels in North Goa
Infinity pool at Doubletree by Hilton, Panaji, Goa
You can find plenty of luxury hotels in North Goa at various price ranges and unique locations. Some of the popular hotels in North Goa include Doubletree by Hilton, Grand Hyatt, Cidade de Goa, Novotel Goa and there are many more.
Resorts in North Goa
Marbela Beach Resort
Some of the best resorts in Goa are located in North Goa itself. Some of the popular resorts in North Goa include Marbela beach resort, Aria beach resort, Riva beach resort and lots more.
Where to Stay in North Goa
There are innumerable hostels and hotels in North Goa. Take a look at some popular picks of hotels in North Goa: