Disclosure: This post may contain affiliate links. I earn from any qualifying purchases, at no additional cost to you.
Rugged landscape and grassy hills, Himalayan architecture and Italian food, crowded streets and tranquil views - Manali is an amalgamation of feelings and experiences. While Manali offers the Mall Road and the fancy hotels, Old Manali gives you a hipster cafes. While the roads are jam packed with cars that don't appear to move at all, you will hear the sound of a sparkling river, accompanied by towering mountains. While your hotel will be next to countless others, the balcony in your room will have an unobstructed view of the city overshadowed by the mountains. Here's a list of to-dos for your next trip to Manali. Also read blissful things to do in Manali.
Firstly, Get a room with a view
If you've read some of my other posts, you will know that I chase after rooms that offer views of mountains or beaches or anything remotely spectacular. If I can't sit in a balcony or at the window, sipping tea and basking in the view, my holiday is incomplete. There's a charm in waking up to see the city at a distance, belittled by the mountains. It truly makes you marvel at the splendor of mother nature and respect her even more. This hotel was located close to the Hadimba Devi temple but it's undisturbed by crowds. Of all the Manali hotels, make sure you find one with a view like this. It's a great place to sit when the Manali temperature dips. Just grab a blanket and some chai.
Search for Hotels in Manali:
Naggar
WHERE? 22 km South of Manali
Naggar, located to the South of Manali, along the Beas river is an idyllic, ancient village to relax, enjoy a steaming hot cup of tea and soak in the mountain views before entering Manali.  While Manali lies on the right bank of the Beas river, Naggar is on the left bank of the river. If you're driving from Dharamshala to Manali, you have to drive along the east of the river to reach Naggar. You can later cross over while heading to Manali.
Naggar has one main point of attraction which is the Naggar castle. The castle, made of wood and stone and displaying an impressive amalgamation of European and Himalayan architecture, functions as a hotel and an art gallery. Some of the best views of the Kullu valley are visible here.
Naggar Castle has been featured in the Salman Khan starer movie, Tubelight and the song Yeh Ishq Hai from the movie Jab We Met.
Rohtang Pass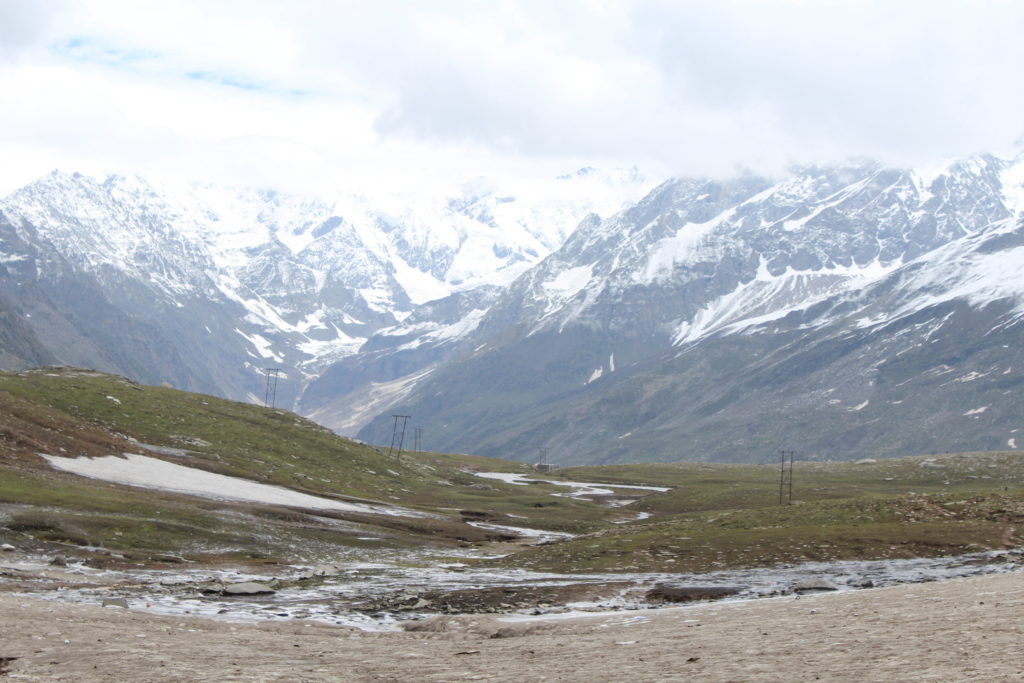 WHERE? 51 Km from Manali
A Manali trip is incomplete without Rohtang. Rohtang Pass, at a height of 13058 ft, connects the Kullu Valley with the Lahaul and Spiti Valleys. The climb up to the pass offers views which will leave you dumbfounded. Rugged landscapes, grassy hills, sneaky little waterfalls and snow capped mountains will accompany you throughout your journey. The picture changes every few minutes, each one more so mesmerizing than the previous.
Keep in mind that a permit is required for visiting the pass. There are certain rules in place which can be viewed on the official website. The permit for visiting the pass and returning back to Manali and the permit for going beyond the pass are different.
Do get some good sleep the previous night because you will have to leave early in the morning for Rohtang Pass. There are many vehicles lined up for the same and it can be a long and tiring journey. There are plenty of snack vendors selling hot maggi, omelette and tea so you won't have to worry about breakfast. There are portable washrooms set-up at the check-point where your permit will be checked.
While returning from Rohtang, you can visit Solang Valley for some adventure activities such as paragliding and zorbing. However, if you are tired from having woken up early, you can get back to your hotel, take some rest and visit Mall road later in the evening for some casual strolling and shopping.
Rohtang Pass has been featured in the Bollywood movies Jab We Met and Yeh Jawani Hai Deewani.
Hadimba Devi Temple
WHERE? 2 km from Mall Road, Manali
Located in the heart of Manali, nestled between pine trees, the Hadimba Devi temple is an unconventionally architectured shrine dedicated to Hadimba Devi, the wife of Bhima and mother of Ghatothkach.
The place is generally over-crowded but you can make a quick stop here, since it's in Manali, close to most hotels. There are some locals who offer fluffy rabbits for you to hold and take pictures with, at a minimal cost.
The Bollywood movie Yeh Jawani Hai Deewani features the Hadimba Devi Temple.
Old Manali
WHERE? 3 km from Manali
Uphill, away from the crowded, jam packed streets of new Manali, on the outskirts, lies old Manali. Giving off a hipster vibe with streets surrounded on both sides by souvenir shops selling hippie clothes and accessories, Old Manali is famous among backpackers, foreigners and youngsters. Backpacker hostels, Italian food and pizza joints are what attract the young crowds. More than that, it's the tranquility of sitting in a quiet hotel, away from the city, surrounded by hills and streams that draws one to Old Manali. While this is not a Manali attraction, it's a place to go for soul searching and cool vibes.