Disclosure: This post may contain affiliate links. I earn from any qualifying purchases, at no additional cost to you.
Places to Visit in Fort Kochi
When you think of a relaxing vacation in India, what place comes to your mind? Goa? Manali? Pondicherry? Let me give you an alternative which is just as appealing but with a lesser crowd and tons of places to visit within the city. Fort Kochi. Why, you ask? Observing lungi-clad fishermen get to work at the break of dawn, wandering around the Jewish synagogue window shopping for antiquities, having a hearty meal at one of the many art cafes and finally watching the sun go down from the Fort Kochi beach is nothing short of mesmerising. I've put together a list of all the reasons that can compel you to visit Fort Kochi India. Make sure you read this ultimate Kerala travel guide.
How to Reach Fort Kochi
Whether it's flights, trains, buses or cabs, there are ample ways to reach Fort Kochi. Take a look at some of them below:
By Air
Kochi or Cochin Airport is located 37 km from Fort Kochi. There's an AC direct bus that runs between Fort Kochi and the airport. Enquire at the airport help center to find out the timings of this bus. Another option is to take a pre-paid cab from the airport. The trip will cost roughly INR 1000. Keep in mind to never use Uber in Kochi. The drivers are flaky and will try to rip you off.
By Train
There are lots of trains that ply to Kochi. Ernakulam Junction train station is the main railway station here. It's located bang in the middle of Kochi city. Fort Kochi is a mere 10 km from the train station. You can take a local bus from the bus stand located close to the station or a tuk tuk to get there.
Places to See in Fort Kochi
Whether its Chinese fishing nets, the beach, a palace or Jewish Synagogue, there's plenty to do and see. If you stay where I did, you can catch fishermen at work early in the morning. Then, grab a hearty breakfast at any nearby art café (there's a plethora of those nearby). Next, head to Mattancherry which is a 5 min auto ride or 20 min walk away. There you can explore Mattancherry palace and finally walk around the Jewish Synagogue area.
Chinese Fishing Nets
The Chinese Fishing Nets are the defining landmarks of Fort Kochi. The entire Fort Kochi beach area comes alive in the evenings. Lots of street food stalls are set-up in the vicinity. Moreover, locals as well as tourists come here to enjoy the breeze. Any visit to Kochi would be incomplete without seeing one of the most popular places to see in Fort Kochi.
Jewish Synagogue
The Jewish or Paradesi Synagogue is a Jewish house of worship that is located in the Jew Town area of Fort Kochi. The synagogue has several ancient relics stored inside. What's interesting to note is that men and women have separate areas for worshipping.
Jew Town Kochi
Jew Town has named because of a former thriving Jewish community that was based here. Now, this area is home to shops selling antiquities and other boutique stores. Beware of the haggling that goes on in this area though. It can get quite persistent and annoying. There's a great cafe called Mocha Art Cafe, located in this area. Apart from that, even the Jewish Synagogue is located here.
Get an Ayurvedic Massage
While there are lots of places to visit in Fort Kochi, one must not miss out on the simpler joys of relaxing. Since ancient times, Kerala has been the hub of Ayurveda research and treatment. If you're looking to rejuvenate yourself with an ayurvedic massage, this is the place to be. Most hotels here offer massage services and it's just what you will need to top off your vacation!
Where to Stay in Fort Kochi - Hotels
One of the best parts of enjoying the Fort Kochi tourist places is the ability to get back to a nice hotel, grab a fresh coconut drink and just relax. Fortunately, Fort Kochi has some great budget as well as luxury hotels.
Neemrana's The Tower House Kochi
I'm a sucker for boutique hotels. Although I'm an advocate of staying at hostels, once in a while, I don't shy away from spoiling myself a little bit. In Fort Kochi, I stayed at Neemrama's The Tower House. The hotel had a sparkling pool, a library, wood paneled floors, a colonial vibe and spacious, cozy rooms. What was even better was the widespread breakfast buffet serving items ranging from South Indian delicacies, eggs, toast, bounty of jams, fruits and drinks. Another plus point of staying at this hotel was that it was situated right near the Chinese fishing nets. The price for this hotel is mid-range which makes it even more appealing.
Le Meridien Kochi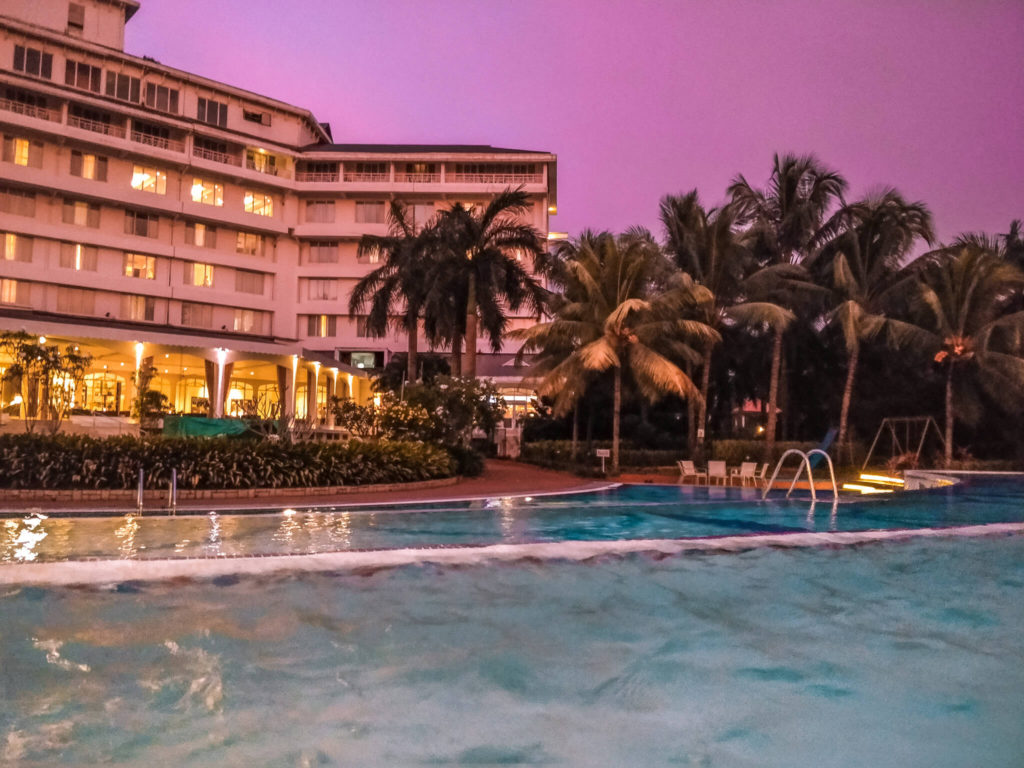 If you want to spluge and enjoy a more luxurious hotel in Kochi then go for Le Meridien by Marriot. The hotel faces the backwaters of Kerala, has top-notch rooms complete with bath tubs in the washrooms. What's more fascinating is the lavish lobby complete with exquisite artwork and an inviting bar. As much as I can praise this hotel, there's nothing that can describe the feeling of watching a sunset in the jacuzzi while sipping a drink from their pool bar.
Other Hotels and Hostels in Fort Kochi
I've heard rave reviews about the backpacker hostel Zostel Fort Kochi. Zostel is India's largest chain of hostels and I couldn't recommend them enough!
Another highly popular boutique stay in Fort Kochi is the famous Old Harbour Hotel. The exterior is quite charming and I've heard great reviews of this place.
Where to Eat in Fort Kochi - Art Cafes
Having brunch while looking at some fabulous art displays? Count me in! it's mind-boggling how many cafes in Fort Kochi double up as art galleries. The amount of culture present in that tiny region had me stunned. Whether it was the ambience of these cafes or the delectable food, I couldn't help myself from wanting to spend all my days just sitting at one of the other cafes. Some popular cafes in Fort Kochi are Mocha Art Cafe, Kashi Art Cafe, Teapot Cafe and Loafer's Corner.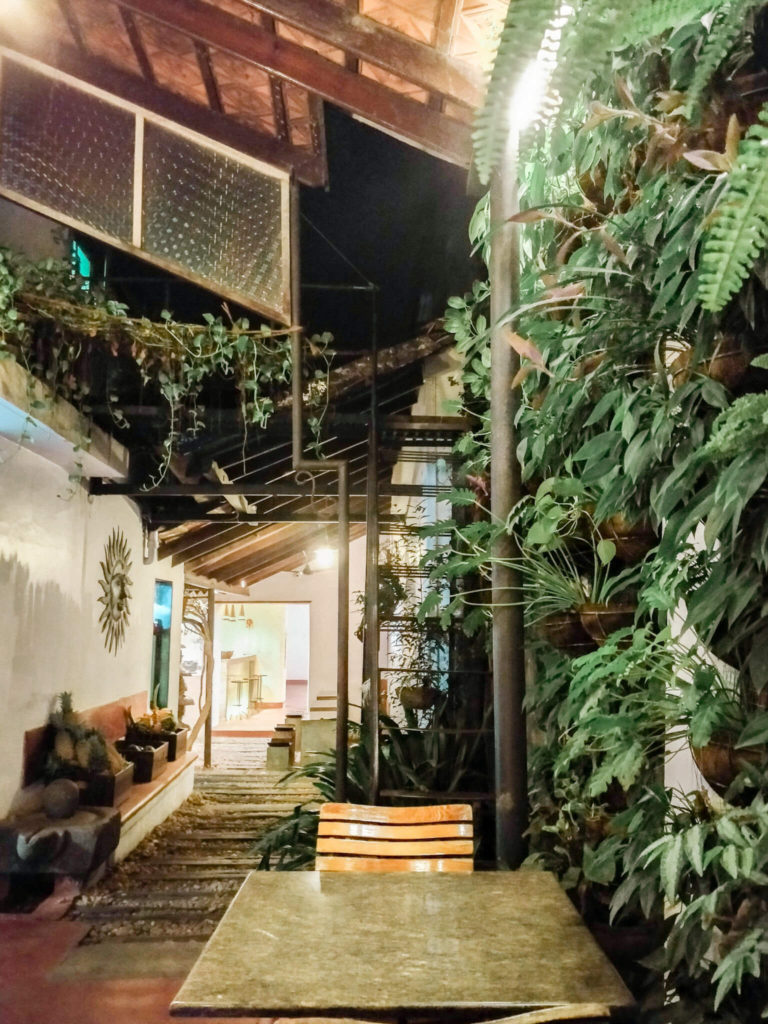 One Day Trip from Fort Kochi - Alleppey
The backwaters of Alleppey are famous for the boat rides that offer a glimpse of the expansive canals of Kerala. Not only does Alleppey offer houseboat rides, it also has a beautiful beach and offers stunning sunsets. Fort Kochi to Alleppey is a distance of 60 km which can be covered by state run buses or by hiring a cab.
I went to Kochi at a time when Kerala had just been affected by one of the worst floods in its history and had begun picking itself up. On the other hand I needed to take a break from my stressful environment back in Goa and cool off for a while. I happened to book an impromptu trip after a brief conversation with a friend. The unadulterated beauty of Kerala and the peaceful environment at Fort Kochi was just what I needed to heal my mind. Right now, Kerala needs all our support in bringing back tourism to the state and help generate revenue for those who rely on that industry for their daily bread and butter. The area is completely safe for tourists now. Fort Kochi will not disappoint!