Disclosure: This post may contain affiliate links. I earn from any qualifying purchases, at no additional cost to you.
Let's face it - Old Goa is the most quintessential touristy place in all of Goa. Old Goa is made famous by the grand and historic Basilica of Bom Jesus, which is also commonly called as Old Goa church. While this basilica is quite grand in itself, there's a lot more to Old Goa than just the famed Old Goa Church. What most tourists are unaware of is that Old Goa is a actually a hub of a plethora of sites - each an architectural and historical marvel in itself. So here's presenting a list of all the Old Goa attractions to help you plan out an itinerary for covering Old Goa in one day.
How to Reach Old Goa
First, let's talk about how to get to Old Goa. Old Goa is located in close proximity to Panjim city. Panjim to Old Goa is a distance of approximately 13 km. You can easily rent a bike or take a bus going from Panjim to Ponda and get down at Old Goa. Buses ply frequently from the Panjim KTC bus stand.
1. Basilica of Bom Jesus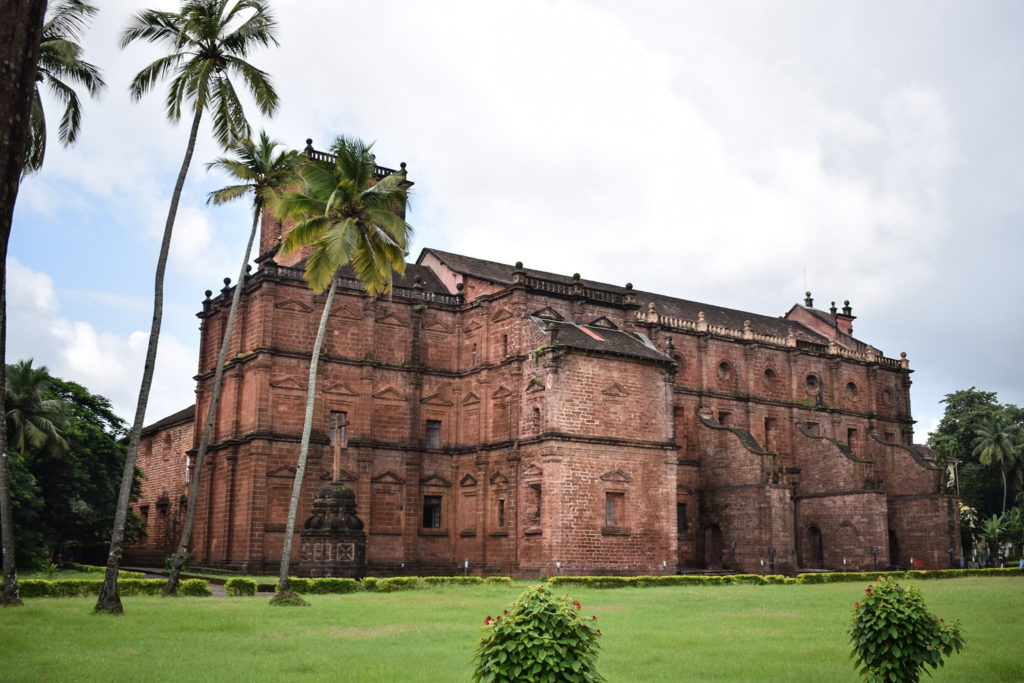 Named as "Bom" Jesus or "Good" Jesus, Basilica of Bom Jesus is a UNESCO world heritage site. The church itself is over 400 years old and is known to be an excellent example of baroque architecture in India. The Basilica holds the body of Saint Francis Xavier, who came to Goa as a missionary. The body is kept in a decorated casket on a high platform, which can be seen inside the Basilica. Moreover, once in ten years, the body of Saint Francis Xavier is brought down for public viewing.
2. Se Cathedral and Church of St. Francis of Assisi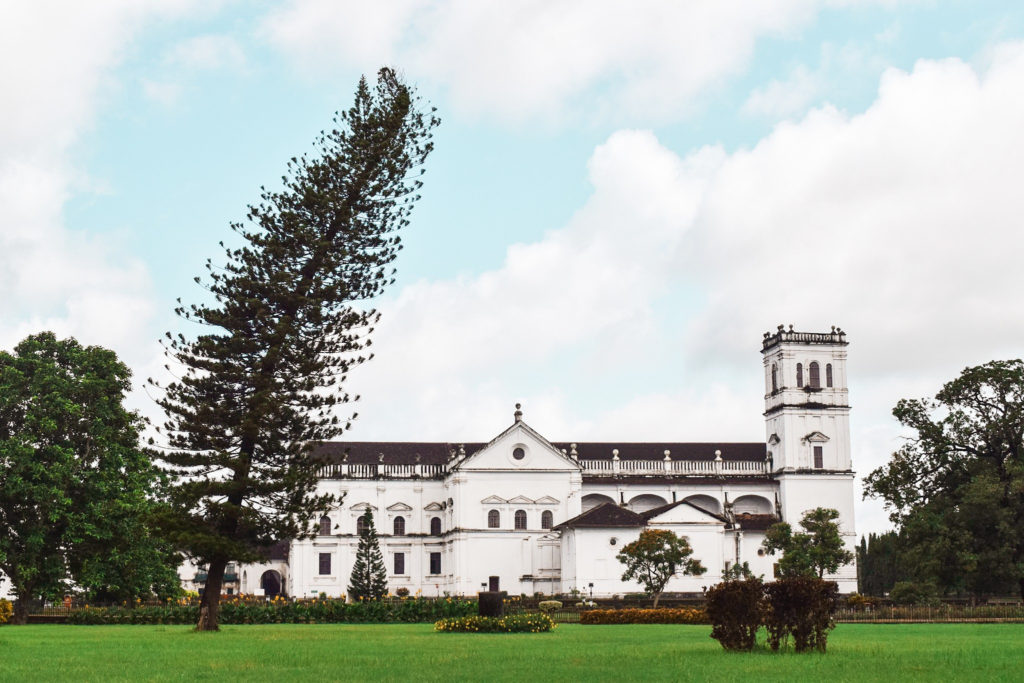 Se Cathedral was built to honour the victory of the Portuguese under Afonso de Albuquerque - a Portuguese general over a Muslim army, leading to the capture of Goa in 1510. Following that, in 1517, eight Portuguese friars landed in Goa and set up the Chapel of St. Francis of Assisi and an adjacent convent for them to reside to the west of Se Cathedral. A few years later, this chapel was constructed into a proper church and thus came to be known as the Church of St. Francis of Assisi. This area, much like all others in Old Goa, is quite well-maintained. The lawns are ever-green and decorated with colourful flowers year-round. You can either walk around here to enjoy the lawns or visit the museum inside to gain a little more knowledge on the Portuguese conquest of Goa.
3. St. Augustine Tower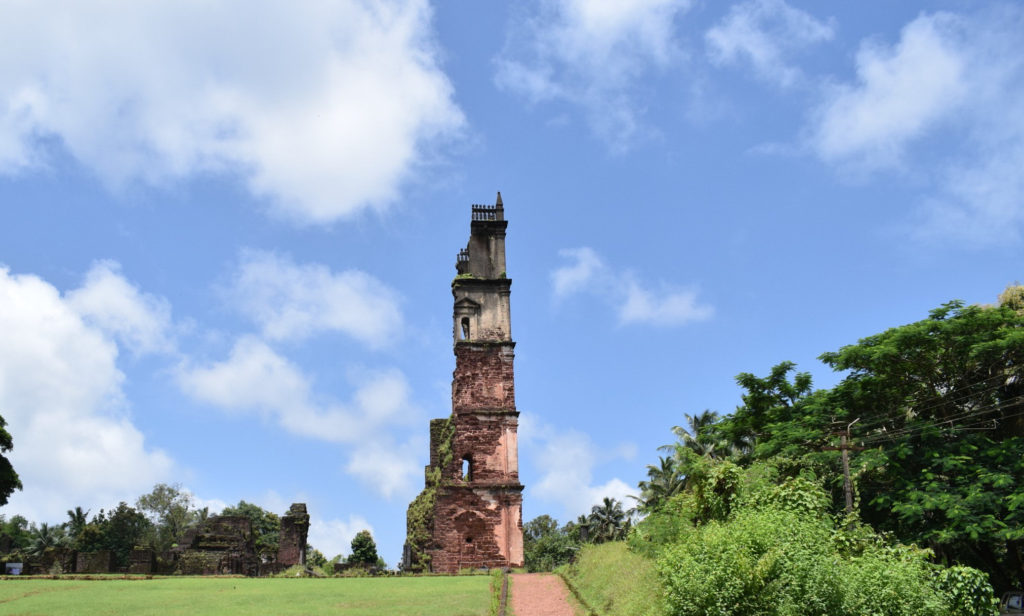 Just a few hundred meters away from the Basilica of Bom Jesus, lies the iconic St. Augustine tower. The tower is located in a complex which is in ruins. Look closely and you might recognise this tower from multiple Bollywood movie songs and action scenes. There used to be a bell in this tower which was removed and relocated to the Panjim Church - Our Lady of the Immaculate Conception, where it still sits today. The best part about this area is that it's in close proximity to the Old Goa Church, yet there are only a select few curious souls that manage to make their way here.
4. St. Cajetan Church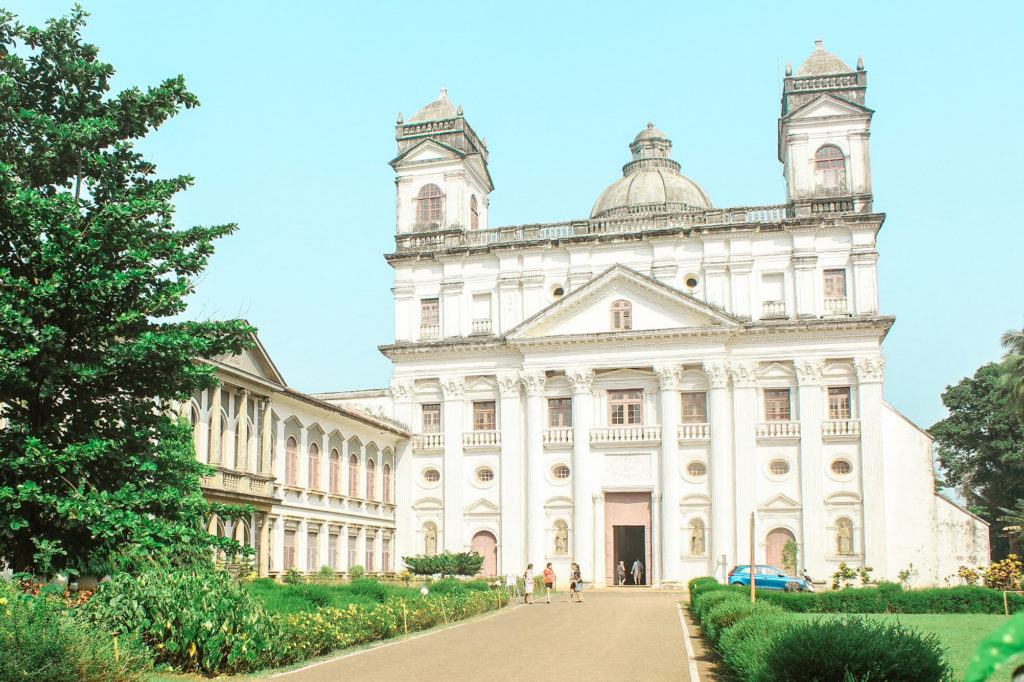 Speaking of rarely visited attractions in Old Goa, St. Cajetan Church is high up on that list. This church is supposed to have been modelled after St. Peter's Basilica in Vatican City. Notice the similarity in the column structure of both the Basilicas. Moreover, the interior of this Church is just as impressive as the exterior. It's a shame that so many tourists come to visit the Old Goa Church yet almost all of them miss out on yet another great church located just a few hundred meters away.
6. Church of Our Lady of the Mount
I had to save the best for the last. Perched comfortably at the top of a hillock, this is where you should end your day-trip to Old Goa. Setting the stage for a spectacular sunset view, the church overlooks three marvellous structures. From left to right we see the St. Augustine tower, Se Cathedral and finally the Church of St. Cajetan to the right. As the sun goes down and the sky takes up an orange hue, you'll find a few curious souls as well as some cheeky youngsters enjoying their evenings here.
Liked this article? Here's another one you' might enjoy.
If you're visiting all the sites in Old Goa and have a few minutes to spare, I have a suggestion for you. Going from Panjim to Old Goa, you might have noticed the bright blue ferry boats. Catch a free ferry boat ride to the sleepy Divar Island to get a glimpse of an island untouched by time. Not just that, you'll find a couple of churches located in picture-perfect settings. Read the article below to find out more: