Disclosure: This post may contain affiliate links. I earn from any qualifying purchases, at no additional cost to you.
Bali is one of the most popular tropical destinations across the world. The fact that Bali has beaches, clubs, rice terraces, surfing, diving, and lots more makes it a popular destination among all kinds of people. a lot of visitors are looking to make a Bali budget trip. So this guide will focus on exactly that. In this article you'll find all the information you need to plan a budget trip to Bali from India or from anywhere in the world.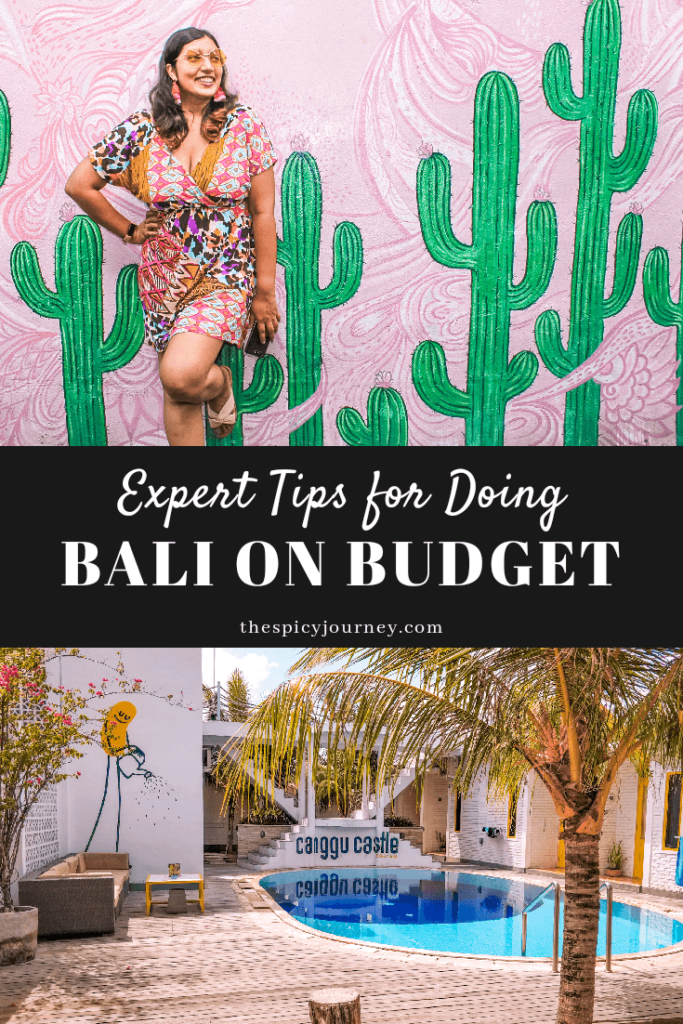 How to Reach Bali
There are many Indian and foreign airlines operating from India to Kuala Lumpur. At Kuala Lumpur you can connect to a flight which will take you to Bali. You can even get connecting flights to Bali via Singapore or Thailand from India. I've broken down some of the budget airlines and their pros and cons below.
Air Asia
Air Asia is one of the major airlines operating to and from destinations in Asia. What I liked is that there were many flights operating from multiple cities in India at different times of the day. I had lots of options when it came to choosing the city to fly out of India and the time of the day. One minus point though is that there is no checked luggage included. You will need to purchase that additionally if you wish to carry checked luggage. Other than that, Air Asia operates like any other budget airline I've seen in India.
Malindo Air
I loved travelling with Malindo Air. There was so much leg room that I wasn't accustomed to seeing on budget airlines. Every seat came with a cute little back pillow. But that wasn't even the best part about travelling to Bali on a Malindo Air flight. There were entertainment units installed which had the latest TV shows and movies. In fact there were shows for kids and games as well. Another thing I liked was the 15 kg checked baggage that came free with my flight ticket purchase. However be careful that your checked bag does not weigh more than the permissible weight because the airline charges heavy fees for excess weight. Believe me, I've made the mistake and regret the exorbitant amount I had to pay.
Where to Stay in Bali
Whether you're looking for a short stay or a long term stay, whether you're on a tight budget or willing to splurge, you'll easily find lots of options in Bali. Take a look at the kind of stays I booked during my budget Bali backpacking trip.
Book Hostels in Bali
Bali has a lot of hostels with cool amenities. In fact for my entire Bali trip I had booked hostels everywhere. Each and every one of them came with a pool. How cool is that?! While I was in Canggu I stayed at the Canggu Castle hostel for quite a few days. The lounge and pool area was unlike anything I've ever seen in a  hostel. This hostel is located in the Berawa Canggu area which is close to a lot of beach clubs and some amazing cafes and restaurants.
Rent Airbnbs in Bali
Apart from hostels, I had even booked a few airbnbs to splurge and enjoy a private comfortable stay after a few hectic sightseeing days. Bali has a lot of amazing airbnbs - many of them even come with bathtubs, private pools and swings. The cost of these airbnbs ranges from extremely inexpensive to luxurious rates. There's something for every budget. What I loved about airbnbs in Bali though is that a lot of properties come with pools and nice balconies. Just enter your budget and amenities filters and search for the perfect stay for you.
Bali Currency
The Indonesian Rupiah (IDR) which is used in Bali, Indonesia is a weak currency. As of November 2019, 1 Indian rupee (INR) is equivalent to 198 IDR. The Balinese currency is even weaker against the dollar or euro. This gives a slight advantage to anyone making a budget trip to Bali from India or from the US or Europe.
Where to Eat in Bali - Local Warungs
While there are plenty of cafes and upscale restaurants in Bali, I found that the most cost effective way to have a good meal was to visit a local warung. Warungs are small restaurants run by locals. A lot of warungs have a buffet system where you pick dishes you like and only pay for what you eat which can cost as less as IDR 25k (roughly INR 150 or 2 USD). On the other hand you can even order dishes. At the local warungs where I ate, I was able to have hearty delicious meals and unbelievable prices. I recommend Warung O-Em-Ge in Canggu for a good nasi goreng.
Getting Around Bali
Uber is an unpopular option in Bali. The taxi unions do not like having outside organisations taking away business. Therefore there's another alternative to Uber in Bali which is called Grab. It works just like any cab-providing app does. Just download the app, enter your destination and choose the type of ride. Another popular alternative is to book GoJek bikes in Bali. This is an other app called GoJek which you can use to order a 2-wheeler ride at dirt cheap rates. A person on a motorcycle will arrive, had you a helmet and take you to your destination. Apart from that, you can even hire taxis or rent motorcycles to get around Bali.
Tips for a Bali Budget Trip
While you can easily plan a budget trip to Bali, there are a few tips you can use to ensure your trip doesn't exceed the cost you had in mind.
Going from Bali Airport to City
The Ngurah Rai airport in Bali is located at Denpasar approximately an hour's ride away from popular places like Canggu, Seminyak or Ubud. The ride from the Bali airport to the city centre can cost a lot if you give in to the taxi operators there. That's because they charge extremely high rates to take you from the airport to city. The best way to avoid that is to get out of the airport, cross the road to reach the parking and order a Grab or Bluebird taxi which charges nominal and fair rates. Beware that technically these taxis are banned at the airport but you can find them at the parking lot pick-up point. Read this article for more details, which I found quite helpful.
Beware of Currency Exchange Scams
While there are a few popular Bali scams, you need to especially be wary of the currency exchange scam. If you find that you're getting an exchange rate which sounds too good to be true, then it probably is! The way the scam takes place is that you're given a very good exchange rate. Once you hand over your money, a person sitting behind a counter counts the local currency to give you. Then they hand over the money to you. So what's the catch? After they have counted the money, they drop a few bills without you noticing and then hand over the money to you. So before you exit, count the entire amount handed over to you.
Know Where to Withdraw Money in Bali
If you go through online forums, you'll come across a lot of people who say they lost a lot of money after withdrawing money from an atm or they lost money after their card was swallowed by the atm. You can read about these scams in detail by doing a quick search. The way to avoid it is by only using atms located inside a bank. And another thing to remember is to never use an atm inside a convenience store. A lot of these scams can end up with you losing a lot or all of the money in your card and will rock your Bali budget trip. Always cover the keypad with your hand while entering your pin in the atm machine and only use an atm inside a bank.
Buy a Local Sim Card upon Arrival
Having a local sim card can benefit you in many ways. Firstly, you won't have to struggle to find wifi. Secondly, you can easily use Grab, Bluebird or GoJek to book rides at your convenience anytime anywhere. Thirdly, you need not worry about excess data charges if you use your home country's sim card abroad in Bali. I bought a sim card upon arrival at Bali airport. Take a look at this article to navigate the Bali airport arrivals and for a few handy tips.
Shopping in Bali
No trip to Bali is complete without a little shopping or lots of shopping. There are plenty of nice stores in Canggu and Seminyak as well as some markets such as Love Anchor that are set up to sell products. On the other hand you'll find a large market in Ubud at all times. Haggling is common in Bali but the best way to enjoy a shopping spree in Bali without breaking the bank is by going early in the morning. The Balinese believe the first sale of the day to be auspicious. So show up in the morning, buy all your products from the same shop and negotiate a fair price.