Disclosure: This post may contain affiliate links. I earn from any qualifying purchases, at no additional cost to you.
Fontainhas, Goa or the 'Fountain of Phoenix' is located in Panjim city, yet far removed from the chaos and clamour of the city. Fontainhas will transport you to more than 60 years ago when the Portuguese administrators resided in this area. As you walk through the old Latin Quarters of Goa, you'll be surrounded by streets lined with red, green, yellow, and orange houses. In these tiny streets, you'll come across vintage postcard-perfect scenes of little bakeries and old world charm.
A plethora of culture and heritage, Goa is often only known for it's beaches and parties. A walk through Fontainhas triggers a growing realization that Goa was ruled by the Portuguese for about 450 years. While the Hindus, fearing conversion to Christianity escaped to far-removed villages along with their temples, the Portuguese set up their headquarters in Panaji, giving birth to the Latin quarters. History comes alive here in Fontainhas, waiting for you to listen to the untold stories it has hidden within itself. Walk the lanes of this magical, often unsung place and revel in it's history.
Urban Cafe
The Urban Cafe, also known as the Bombay Coffee Roasters, is a hostel and cafe serving a selection of teas and coffees. On the outside it has a colorful tiled wall, giving off a hipster feel. Inside, the seating is over two floors. While the bottom floor has a simple, minimalist white decor, the top floor has dim gray walls, comfortable couches, a wooden bench and a stand-out lighting arrangement. Although food is not served here (except some sandwiches), it is a great place to relax, utilize the WiFi to finish off your work and start the day with a refreshing cup of coffee.
Panjim Inn and Gitanjali Art Gallery
Both Gitanjali Art Gallery and Panjim Inn are just a stone's throw away from Urban Cafe. Painted in contrasting maroon and white, the Gallery showcases the work of local artists and houses a great art collection. As a matter of fact, the gallery functions as a cultural space, hosting events on a regular basis such as poetry readings, courses on film appreciation and art discussions. The gallery is a part of the Panjim Inn Hotel. Drop-by here to soak in the stories told by the local artists though pictures.
Take a Fontainhas Heritage Walk
A Fontainhas, Goa heritage walk can help you soak in all the colours of the houses and understand the history of the Latin quarters of Goa. One of my favourite things to do in Fontainhas is to capture the beauty all around. Because the streets are lined with numerous coloured walls, they offer excellent photo-taking opportunities. Wear bright coloured clothes to give the walls some competition and make your pictures pop!
Find Staircases in Fontainhas
Fontainhas and the nearby Mala have some alluring staircases, hidden within the labyrinth of the many tiny streets. The light poles and the foliage around the quiet, empty staircases give off the impression of a quaint European town. You might even find a stay cat watching you suspiciously in the background. Walk around Fontainhas to discover some of these staircases. Most of the time, you will find them empty. It's a great place to sit down and pen down your thoughts while being inspired by the beauty around you. Bonus points if you can find the peacock pattered one!
Dine at Barrels and Bones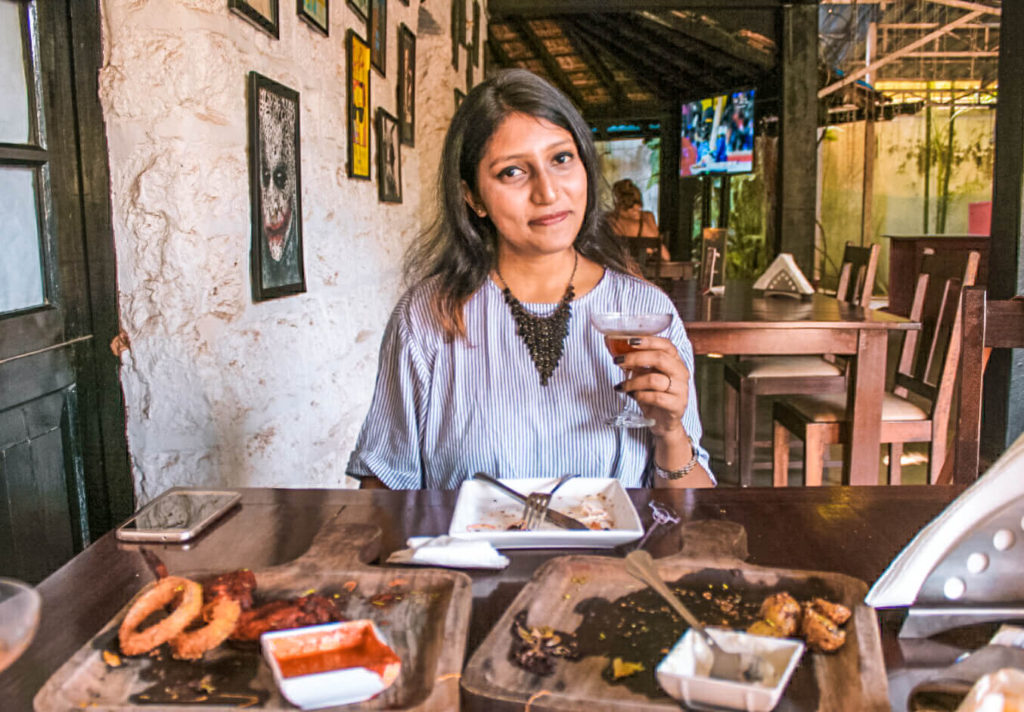 Panjim has some of the most excellent restaurants in Goa. While some offer delectable food, some of those restaurants are made famous for their ambience. Fortunately, Barrels and Bones offers both. This restaurant creates a simulating atmosphere with it's textured white walls dotted with vintage posters and the scrumptious American and Continental dishes. It's one of the best steak houses in Goa, if not the best. Their cocktails served here are as stellar as the food. It is the perfect spot to grab lunch while in Fontainhas. Read about some of the other best restaurants in Panjim city. You can also read my review of Barrels and Bones by clicking the Zomato link below.
Where to Stay in Fontainhas
Fontainhas has some really good hotels, hostels as well as boutique stays. Panjim Inn happens to be the most popular stay option in Fontainhas. On the other hand, there's even a popular hostel in the area, Old Quarter by the HostelCrowd.
Check the availability of Fontainhas hotels via the links below: